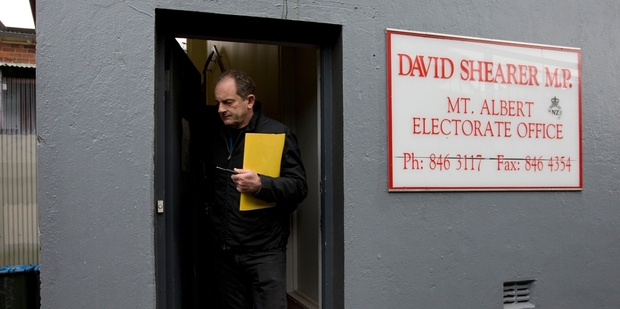 Labour list MP Shane Jones is sounding out supporters before deciding whether to throw his hat in the ring for the party leadership.
Mr Jones said yesterday that he was busy mowing his lawn "but I'm not ruling myself out".
The 53-year-old, an MP since 2005, said he was talking to "a whole bunch of people". They are understood to include fellow MP Clayton Cosgrove, former MP Dover Samuel, Ngapuhi leader Rudy Taylor and close friend Willy Jackson. Some were urging him to put his name forward even though he would be the underdog.
It's understood he had also spoken to his friends from Labour's 2008 intake, Stuart Nash and Kelvin Davis.
As well as livening up the contest, the entry of Mr Jones would give those to the right of the party an option to vote for, as well as those keen to see a Maori candidate.
And although he would be the underdog, the entry of a third contestant would mean a preferential voting system kicked in because the eventual winner must secure more than 50 per cent of the vote.
That could increase Jones' chances.
Labour's leadership hopefuls are yet to show their hand, but it is almost certain there will be at least two after MPs and the party's ruling council dismissed the chances of a deal in which caucus put up just one contender to prevent the need for a long-drawn-out contest and vote.
David Cunliffe and Grant Robertson are yet to formally confirm whether they will stand, but supporters for each said they were expected to put their names forward.
Mr Robertson is likely to get a majority in caucus, but the members and unions are an unknown factor - and it is far from certain Mr Robertson's caucus support will be convincing enough to outweigh a strong vote for Mr Cunliffe among the members and unions.
Although some MPs had initially debated whether it would be better if only one person was nominated from caucus, it is unlikely either side will be willing to pull their contestant in favour of the other and there was also concern about a backlash to any caucus "stitch-up" from the 40,000 to 50,000 party members and union affiliate delegates who will be able to vote for the leader for the first time. One MP said that making such a deal in caucus would be "fatal" and "disastrous" in terms of unity between the caucus and the wider party.
Andrew Little is also yet to decide, but is more likely to bide his time than try for the job now.
The leadership race was prompted by the resignation of David Shearer on Thursday to pre-empt a vote of no-confidence in his leadership. It will be the first time a leader is selected under rules that give members and union affiliates a share of the vote.
The party yesterday set out the US primaries-style contest, including a 10-day road trip in which the contestants will address party members before the results are released on September 15.
The leadership rivals will also have to sign a code of conduct which is yet to be finalised but will include a spending cap and expectations for behaviour, such as a ban on personal attacks.
Party president Moira Coatsworth sent a clear warning to caucus about the risks of depriving the members of a chance to vote by putting up only one contender.

Key dates
• August 26: Nominations close
• August 31 to Sept 9: Campaigning for votes
• September 15: Results expected