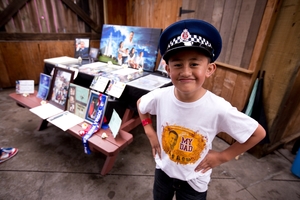 A headstone for New Zealand policeman Kali Fungavaka will be unveiled by his family today, marking just over a year since he died in Tonga.
The 38-year-old, an officer at Counties Manukau, died on August 23 last year after allegedly being beaten while in police custody days earlier.
Although a year has passed, the pain is still raw for his family and particularly his children, aged 5 to 13.
His widow, Audra Watts, said it was a struggle to be without her husband, with whom she worked at the Manukau District Court.
"All his stuff is still in the house. It's hard ... we got used to doing stuff together or going to places together.
"We did everything together and I think I'm still adapting to the situation."
The couple's friends, mostly police officers, continue to encourage and support her - something that she said had helped her to cope.
"His friends still talk about him all the time. He's still fully remembered. It's gone so fast. The unveiling is here. It's not like we're celebrating - it's just something that has to be done."
Mr Fungavaka had been in Tonga for his grandfather's funeral.
On August 17 he and a relative were arrested for minor drunkenness and taken to a police station in Nuku'alofa.
Mr Fungavaka suffered severe head injuries that same night and was rushed to hospital.
Six days later, he was dead.
Mr Fungavaka's children - to his ex-wife Cally Ruahe - still find it hard to talk about their dad.
At a memorial service yesterday, they stood proudly wearing T-shirts bearing their dad's name.
But they found it too hard to speak about him.
Different-coloured balloons were released by his children Shiloah, 13, Jalen, 12, Bailee, 10, and Mason, 8. Another daughter, 5-year-old Dallin, lives in Australia with other family members.
The past year had been difficult for the children, Ms Ruahe said, and all had taken counselling to help cope with their father's death.
"Their bedrooms are like shrines to him. They have pictures of him everywhere. I just say to them, when you go through tragedy, they can either use it to bring them down or to motivate them."
Six men, including five Tongan police officers, are to stand trial next March for the manslaughter of Mr Fungavaka.