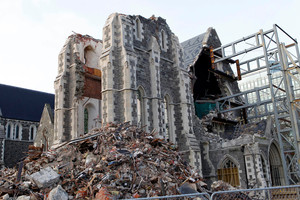 Campaigners battling to save the earthquake-damaged ChristChurch Cathedral have taken their case to the highest court in the country.
The Court of Appeal last month ruled that demolition of the building could go ahead. But the bulldozers won't be allowed to roll over the stricken Christchurch landmark just yet after the Great Christchurch Buildings Trust today sought leave to appeal against the decision.
The trust said in a statement the issue of whether the church's custodians, the Church Property Trustees, were obliged to retain the heritage building was of such importance it should be heard by the Supreme Court.
"... The obligations of the trustees to maintain and repair the cathedral will be the focus of the case in the Supreme Court."
The trust regretted that it had not been able to reach a resolution on the future of the cathedral with the Anglican Diocese, but said the church had declined to engage in any meaningful consultation.
"While the church takes the position that the building's future is for it alone to determine, as a Category 1 Heritage Building, any demolition would ordinarily require a resource consent and be subject to a public process, with rights of appeal to the courts."
The Gothic-style cathedral's spire was snapped in the deadly February 2011 quake.
The Church Property Trustees have released three design options for a future cathedral and plan to deconstruct the damaged building to a "safe level" of 2-3 metres above the ground.
- APNZ