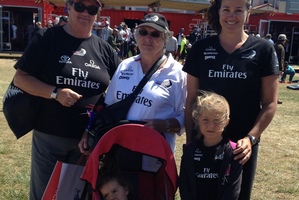 The Herald bumped into the family of Team New Zealand grinder Chris McAsey watching the racing yesterday. McAsey's wife Suzy, children Brooke and Billie, mother Brenda and mother-in-law Sandra Easterbrook cheered on as Team NZ took a 4-1 lead over Luna Rossa.
Q: What brings you along to watch the racing?
Sandra: My son-in-law Chris [McAsey] sails on Team NZ. We're all here supporting him. I've become a very enthusiastic follower and have been sending reports and photos back home to the Northern Advocate in Whangarei.
Q: Were you pleased to finally see two races?
Suzy: Oh definitely. It feels like it has been such a long, drawn-out affair - it sort of consumes you. So it was very exciting to see them get through two races today and do so well.
Q: The boats are on the edge at times. Do you get nervous watching them out there?
Suzy: It was pretty stressful watching this week after they nosedived - that got the heart-rate going a wee bit.
Q: Have you been down here at Marina Green every day or have you been watching the racing from different vantage points?
Suzy: We've tried to get around the place and watch it from different spots. We are lucky with our apartment - it is on the 11th floor so we get a perfect view of it all and can have the computers set up as well.
Brenda: The best place to watch it is on TV - you get a much better view. I choke up a little whenever I see my boy, I'm just so proud.
Q: Are you staying on for the America's Cup as well?
Brenda: We're not billionaires! No, we're flying home on Saturday. I think Chris will probably want us out of his hair; he'll probably be a bit uptight about things.
Q: So you'll be hoping Team NZ wrap this thing up on Saturday?
Suzy: Yes, that's the plan. We'd like to be here to see them lift the trophy and be here for that excitement. Hopefully the weather helps us out there.