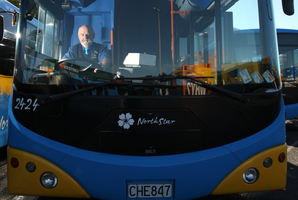 North Shore commuters are confused by a late delay to the planned introduction of Auckland's $100 million electronic Hop card system on two large bus fleets.
Some who followed Auckland Transport advice to run down credit on NZ Bus Snapper cards by Sunday, and load up the council body's new Hop cards instead, have been left in the lurch by what is being called a "temporary" delay.
It is understood that is likely to be for up to four weeks, to allow passengers to renew monthly passes under the old system in the meantime, although the transport organisation has yet to approve contingency arrangements.
NZ Bus subsidiary North Star was to have switched to the Hop cards on Sunday, followed by Northern Express operator Ritchies on September 8.
But Auckland Transport sent notices to passengers yesterday saying an "intermittent technical issue" had cropped up, and advising them to keep travelling on existing cards, tickets and passes.
"We will advise as soon as possible when the roll-out will recommence and apologise for any inconvenience caused," the notices said.
Industry sources have told the Herald the cause of the delay is a failure by some Hop machines already in use on smaller bus fleets of Birkenhead Transport and Urban Express to let passengers "tag off" at the end of their trips without being penalised.
Passengers who do not tag off have $5.04 - the fare for four bus stages - deducted from their cards, regardless of how far they have travelled.
Auckland Transport "ambassadors" are expected to be working on buses and at bus stops today and throughout the weekend to explain to passengers what they should do.