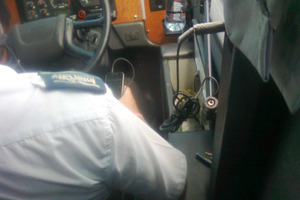 Bus drivers are facing more accusations of misbehaviour, including from an Auckland woman who says her car was almost squashed when a coach forced it on to a motorway shoulder.
Susan Jones contacted the Herald yesterday about the narrow escape for her and her 15-year-old daughter, after the newspaper published photographs of drivers variously scanning paperwork and talking on a cellphone while at the wheel.
She said she was overtaking an InterCity coach - from the same company that featured prominently in yesterday's coverage - while in the outside motorway lane on Auckland's Spaghetti Junction when it starting cutting in front of her, forcing her on to the shoulder to avoid being squashed.
"I had to accelerate, otherwise he [the coach driver] was going to squash me into the barrier," she said.
"I tooted and saw him look, and he just pulled across - I'm on the road all the time and you see bad driving all the time, but this was a particularly pointed, deliberate dangerous thing to do."
A passenger of InterCity and other coach lines, Michael Glover, said he often saw drivers checking in with their bases on cellphones.
"The suggestion that they are radio telephones is fanciful - I absolutely know the difference of operation between the two," he said.
InterCity chief executive Malcolm Johns said using radio-telephones while driving was lawful, although passengers "often confuse the two".
He said he did not have details of Ms Jones' complaint but would follow it up today.