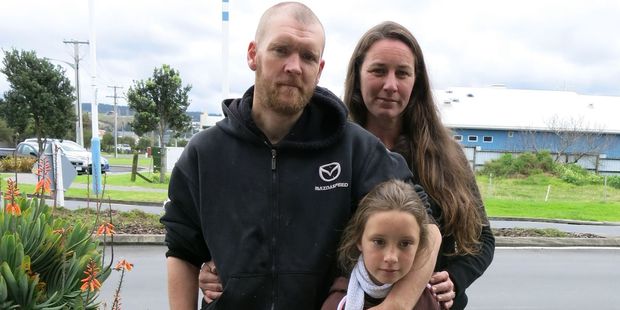 Tired, sore and close to freezing to death, a disorientated possum trapper lost in the bush had nearly given up hope.
After losing his way, stumbling through thick bush and falling into a freezing stream, Nigel Hinsley, 37, hunkered down and tried to keep warm.
Rescuers located the Whangamata man early Saturday morning suffering from hypothermia after spending most of the night in the bush behind Whangamata. He recalls hearing someone call out "We're coming" and describes himself as "a very, very lucky man".
Mr Hinsley left home at 8.30am last Friday to check his possum traps in the Wentworth Valley, telling his partner Kylie Murray he would be home by 2pm.
"By 8pm I knew something was wrong," she said. "He is always home on time."
Whangamata police Sergeant Vince Ranger said Search and Rescue teams from Whangamata, Tairua and Pauanui, Waihi and Paeroa sprang into action.
Police were concerned for Mr Hinsley because he suffers from a physical disability after a serious car crash in 2007, requiring him to take medication regularly. He was not equipped for a night in the bush.
Mr Hinsley was found about 1.30am on Saturday, more than 2km into the bush. He told of his night in the elements - cold, wet, disoriented, afraid and hurt after falling several times and crashing into trees and a stream swollen by heavy rain.
"It was hot when I went in so I had taken my jersey off and left it behind. I went to check the first trap and lost my balance. Ever since I had the crash, when my car was hit head-on by another one on the Napier-Taupo Road, I have had problems with my balance," Mr Hinsley said.
He rolled down and smacked into a tree.
"It really hurt and I was sure I had broken some ribs. I was feeling really bruised but managed to get up and move about five metres before falling again. This time I landed in the water. It was raining hard and was very dark. I tried over and over to get up but kept falling down. Since the accident my brain isn't what it used to be and my balance is not very good."
Mr Hinsley said he was reasonably familiar with the area but in the gloom and with the water higher than usual after recent rain, it all looked different.
Wet and cold and unable to find the track, he decided to hunker down, his hands clasped between his legs and his shirt pulled up over his nose and mouth so he could blow warm breath on to his skin.
"Every 15 minutes or so I'd stand up and yell 'Help!' in three different directions."
It was after one of those moments he received a response.
"One of the searchers had stopped and taken his rain hat off. Apparently with all the rain on their rain hoods they couldn't hear anything else. It was sheer luck that searcher heard me."
It was then he heard the words "We're coming".
"I am so grateful to those searchers, to the police, fire brigade and St John ambulance. I just want to thank them for everything. They got me out of my wet clothes and into dry ones and wrapped me up.
"They said my body temperature was down to 32C and another hour in [the bush] and it would've been all over."
He was taken to Thames Hospital and discharged the following day.
Mr Hinsley spent most of Monday visiting those involved in the search to personally thank them for their efforts.
Ms Murray said Mr Hinsley was like a cat with nine lives. He had survived numerous dramas during his lifetime including a motorbike accident and a fall from a four-wheeler while farming.
The serious car crash had left him in hospital for almost six months with multiple injuries and his career down the tubes.
At the time he was managing a large dairy farm on the Rangitaiki Plains.
After the car crash, the couple and their three children - Nicole, 8, Jack, 7, and Hollie-May, 3 - returned to Whangamata. They now live in a rented home just out of town.
"I won't be going possum trapping on my own again, that's certain," Mr Hinsley said.
- The Coastal News