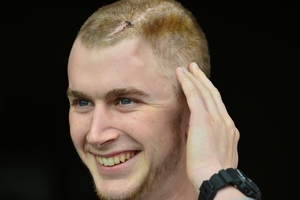 Student Matt Martin awoke from a coma without any memory of the Dunedin rugby game in which he was concussed - or of the November death of his mother.
But Matt's memory is returning and he was yesterday allowed out of hospital for a time to celebrate his 17th birthday with his family.
Matt's father, Dave Martin, 48, said his son was temporarily discharged from Wakari Hospital's specialist rehabilitation service yesterday.
All he remembers about the under-18 grade match earlier this month in which he sustained a head injury was borrowing his older brother's rugby boots to play.
Matt said he had not remembered the death of his mother, Sharon O'Callaghan, from cancer in November.
"I kept asking Dad how Mum was and asking why she hadn't been in."
Then Matt saw a memorial tattoo for his mother on his father's forearm, Mr Martin said.
Matt later remembered his mother's death.
Mr Martin had stayed at the bedside when Matt was in a coma.
"It was a pretty hard time. At that stage, we didn't know what was happening, whether he was going to survive or not."
The first moment of relief came when Matt squeezed his father's hand.
"It was pretty amazing. The first day he woke up, he had next to no movement on his right side and was like that for a few days, but it slowly came back."
Mr Martin was hopeful his son would return home in a few weeks.
"We expect he's going to get a full recovery. We just don't know how long it's going to be. But he's way ahead of what people expected."