Getting out of Orakei carpark safely an issue during busy periods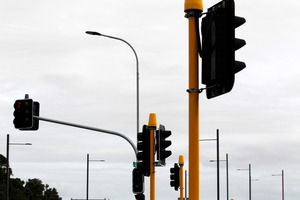 Q: Are there any plans for traffic lights to be put in place for exiting the Orakei park-and-ride carpark? Congestion on Orakei Rd, especially at peak times in the evenings, is making it rather difficult to exit safely. Deirdre Bridge, Orakei.
Not at this stage. But Auckland Transport is assessing the Orakei Point Development proposal, including looking at the access into and out of the Orakei park-and-ride facility.
Q: With the influx of 1400 office workers to ASB Bank's new head office in Jellicoe St will the council be looking at extending traffic light phasing for cars coming out of Beaumont St and turning right on to the motorway? At present the phasing is short, allowing only about 10 cars to get through on the green. Cars are now backed up past the Westhaven Drive T-junction and it is only going to get worse. What about having two right turning lanes?
Also, will there be any change to traffic lights on the Fanshawe St-Halsey St intersection? Bob Nash, Auckland.
Auckland Transport is about to start a project within the CBD involving a number of routes. Fanshawe St is one of the roads being studied.
AT will ensure that this intersection is reviewed, given the changes that have occurred in the neighbourhood and, more importantly, the development planned for the Wynyard Quarter area.
There will be a review of the phasing at the Halsey St/Fanshawe St intersection once the new Halsey St/Gaunt St traffic signals are commissioned and switched on.
Q: As locals, we watched the walkway from the new Jacob's Ladder overbridge to Pt Erin being developed. During the construction of the overbridge a large section of the park at the base of Pt Erin was fenced off to allow the construction work to progress.
This work was finished quite some time ago, yet the large section of the park still remains fenced off from public access. Are you able to let us know why this is so? Jonathan Brownlow, Ponsonby.
It is the Transport Agency's intention to make this piece of land available for community use. This triangle-shaped section of land is legally part of the adjacent motorway, and the Transport Agency is now investigating the legalities of making it available for public use while still protecting its own ability to use this land for emergency or planned works in the future. The section has been used for storage during the recent construction of the Victoria Park Tunnel, and as part of the maintenance programme for the nearby Auckland Harbour Bridge.