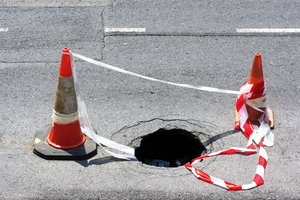 A 3-metre wide sinkhole has forced the closure of part of a central Wellington street.
The hole, on Hobson St in Thorndon, formed about noon, City Council spokesman Richard MacLean said.
"Basically, there's a three-metre by three-metre hole opened up in the middle of the road,'' he said.
Directly below the hole was a vintage stormwater main made of brick which had collapsed, he said.
This had allowed the earth above it to drop into the stormwater main.
"The hole's basically expanded to the extent which it's taken the road out as well,'' he said.
Mr MacLean was unsure exactly when the main collapsed, but said it was likely to be in the last couple of years.
It measured about 1.5 metres in diameter, and was thought to be from the 19th century.
Damage from the recent quakes was unlikely to have caused the sinkhole, but it would probably have contributed to it, he said.
The road was likely to be closed for another two to three days while repairs were carried out.
No other structural damage had occurred to the road or nearby buildings, Mr MacLean said.
- APNZ