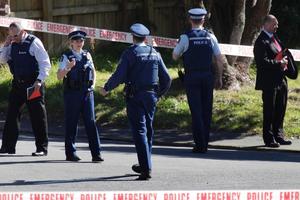 A former Iraqi soldier who stabbed his wife 55 times in a jealous rage has had his appeal against his sentence for murder dismissed by the Court of Appeal.
Najeeb Dawood, 52, was sentenced in February in the High Court at Wellington to life imprisonment with no chance of parole for 17 years.
The murder was the result of a culmination of a history of threats and violence towards his wife, Eman Hurmiz, depression and an abnormal jealousy over her imagined infidelity.
On September 2, 2011 Dawood lured his wife to a shed at the back of their Wellington property, tied her into a chair, took a large knife and began stabbing her.
Once his wife had died, Dawood attempted to commit suicide, but was revived by emergency services.
He pleaded guilty to murder, aggravated wounding, assault, threatening to kill and possession of a weapon.
The sentencing judge, Forrest Miller said Dawood's culpability was significantly worsened by the attack on his eldest daughter during the course of the fatal attack.
Further aggravating features were a history of violence and control by Dawood over his family; that the murder was committed at the family home; and the very severe effect on his children.
Justice Miller imposed a starting point of 19 years non-parole period and reduced it to 17 years because of Dawood's guilty plea, his depression and "abnormal jealousy".
Dawood's lawyer Chris Tennet argued to the Court of Appeal Justice Miller's starting point was "manifestly excessive".
He said the judge had failed to give adequate credit in relation to Dawood's mental disability and the length of time reduced from the starting point for his guilty plea was inadequate.
Mr Tennet also argued Dawood had planned to inflict only grievous bodily harm on his wife and this removed the premeditation aspect.
However, Justices Douglas White, Lowell Goddard and Simon France disagreed with Mr Tennet.
"Even if the original intention were to deface his wife (as the appellant put it in a letter) by maiming and disfiguring her, that cannot minimise the degree of premeditation and planning in which he indulged for his end purposes."
They also said the approach taken by Justice Miller was in line with other decisions and could not be faulted.
"A minimum term of 17 years' imprisonment was required in terms of the clear statutory purpose of s 104 of the Act. Given the significance and number of the aggravating factors, an uplift to 19 years as a start point was justified.
"The credit that was given for what mitigating features there were and for the guilty pleas was also well within the judge's discretion," the judges said.
- APNZ