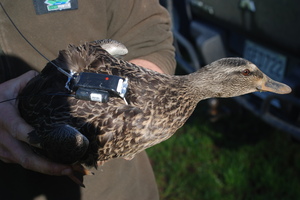 Space-age technology is being fitted to mallard ducks which researchers hope will provide vital information about their nesting and breeding habits.
Fish & Game experts are attaching tracking devices called Argos, developed by the Centre National d'Etudes Spatiales, the French space agency, to female ducks in Waikato.
The satellite-based technology will allow researchers to pinpoint the ducks' location to within 200 metres then track and observe them to see whether they have paired up or mated.
"What we want to find out is when the birds are nesting, when their eggs were laid, how many hatched, and then be able to follow the offspring through to fledging (when they start flying)," said Waikato-based Fish & Game officer David Klee, who will take part in the study along with long-time mallard researcher Matthew McDougall.
Mr Klee said it was hoped they would be able to identify the key factors limiting the growth of mallard and grey duck populations.
"We often receive anecdotal reports that pukeko, hawks, shags and eels are all responsible for taking ducklings. The long-term solution for trying to get hatchlings through this stage may be habitat manipulation, such as planting better cover species or intensive predator control," he said.
"The overriding aim is identify key life stages that are limiting the number of birds in the population. We need this information to better manage our stock and increase our maximum sustainable harvest over time."
Mr Klee and his fellow researchers were in the process of trapping 40 mallard hens in baited "funnel traps" before harnessing transmitters to their bodies.
The $300,000 study will take three years.
Depending on the results, Fish & Game staff hoped to identify "opportunities to improve productivity in any given year through long term habitat manipulation and enhancement", Mr Klee said.
"That translates roughly into 'if we can improve the living conditions for these ducks we'll end up with lots more of them'."
- APNZ