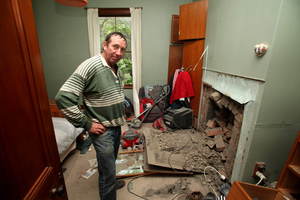 Westpac Stadium has received the all-clear to host Saturday's Bledisloe Cup rugby clash in Wellington.
The stadium closed its doors as a precautionary measure following Friday's magnitude 6.6 earthquake, but following a detailed engineering assessment the stadium has received the go-ahead to re-open.
"It's great news we can host a sell-out crowd in a safe stadium as planned,'' said New Zealand Rugby Chief Executive Steve Tew.
"Public safety is of paramount importance to us so it was essential we received reassurances from engineers before continuing with our planning,'' Mr Tew said.
"Obviously this has been an unsettling time for fans and we fully support Westpac Stadium's prudent response to Friday's earthquake to close the facility pending checks.''
Stadium Chief Executive Shane Harmon said public safety was the stadium's top priority.
"We followed the same process as we did for the recent July earthquake. We will always take a conservative approach in the event of a major earthquake.
"We can assure ticket-holders that the stadium is structurally sound and that there is no greater level of risk than existed before the recent earthquakes. Our engineers have said that the building has performed as expected''.
The stadium had incurred similar minor damage as it did in the July earthquake, such as chipped concrete and broken glassware. All repairs would be carried out quickly and well in advance of Saturday's match, he said.
Emergency services are on standby in Seddon and residents are preparing to evacuate after engineers discovered a dam near the township has an increased chance of breaching due to damage caused by Friday's tremor.
A specialist dam engineer overseeing the precautionary drainage of the Haldon Dam has discovered more issues with its stability.
After Friday's tremors the Marlborough District Council made the decision to lower the water level in the dam in the interest of public safety.
Emergency services were now on standby in Seddon and nearby residents have been warned, the Council's assets and services manager Mark Wheeler said.
In a worst-case scenario, eight rural properties, about a dozen houses and around 20 sections in Seddon's township on the south-east side of Starborough Creek could flood if the dam breaches.
Property owners have been advised they would get 90 minutes' notice if floodwaters were going to flow into Starborough Creek toward their properties.
A warning note was delivered to households this afternoon advising occupants of the increased risk and the possibility of being asked to evacuate.
Emergency services would move door-to-door evacuating properties should that be required, Mr Wheeler said.
Extreme flooding was unlikely, according to the engineer's advice.
Meanwhile, eight Seddon houses must be vacated because they have been deemed unsafe or uninhabitable by Marlborough District Council building inspectors. Another 11 have restricted use only because of safety issues.
Farmers were urged to contact the Top of the South Rural Support Trust if finance problems or stress levels were increasing, the Council said on its website.
Marlborough Mayor Alistair Sowman said he had been advised that a few people are using garages, tents or caravans for shelter, and offers of accommodation were coming in.
"The community has been looking after each other very well but we know that, as exhaustion sets in, some people will find it hard to keep positive. I urge anyone who needs help to ask for that support.''
Cook Strait quake forecasts:
* Magnitude 6 and above: in the next 24 hours _ 3.5 per cent / this week _ 14 per cent
* Magnitude 5 to 5.9: in the next 24 hours _ 30 per cent / this week _ 76 per cent
* Magnitude 4 to 4.9: in the next 24 hours _ 98 per cent / this week _ over 99 per cent
- APNZ