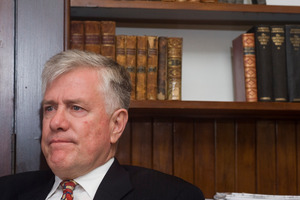 A party organised by parents from one of New Zealand's top schools ended with security guards calling police to control fighting.
Police were called to Cook St in Auckland's CBD early yesterday after receiving reports of a brawl involving King's College students on the street outside a factory where they had been holding a party.
Senior Sergeant Andrew Fabish said security guards hired to supervise the event on Saturday night contacted police just after midnight.
Several parents were also there and police did not believe any alcohol was served on site. "There was fighting, young people had spilled on to the street but there were parents and security guards there," Mr Fabish said.
"There are similar issues in the CDB every Saturday night.
"We don't really care what school they've come from, it's just another event that's occurred."
King's headmaster Bradley Fenner could not comment on the specifics of the incident or the party as he had only limited information yesterday.
He confirmed the party had been organised by parents of King's students, but was also attended by teens from other Auckland schools.
"We will be investigating this over the next couple of days to try and find out exactly what has gone on," he said. "We need to find out a bit more.
"If there has been any anti-social behaviour and violence then that is something that we deplore. It is the absolute antithesis of what we stand for as a school and a community."
Mr Fenner said the matter would be "pursued with a great deal of urgency and rigour".
"If there is any further police follow-up, we will be supporting and co-operating them," he said.
Students from the college have been involved in party-related incidents over the past few years. In 2011, a 17-year-old died after an incident at a motorway overbridge following the school ball. King's has not held a mid-year ball since then.
And in 2010, a 16-year-old died from acute alcohol poisoning after drinking a bottle of vodka at a party.
Mr Fabish said yesterday's problems would be referred to the police alcohol harm reduction team, who would appraise the situation and speak to the relevant people if necessary, including the organisers or the school. He confirmed no one was hurt but several youths were arrested.
"Because they are young people, the likelihood of them being charged is slim. There are other options more appropriate, like pre-charge warnings, rather than just biffing them in court like the old days."