Maori Focus Units want families to play their part in cutting rate of prisoners' reoffending by 30 per cent.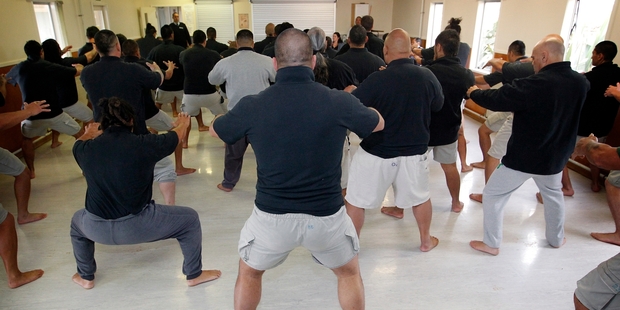 Prisons with Maori Focus Units are changing they way they work, offering more time between prisoners and their families in a bid to cut reoffending.
The changes are part of initiatives which aim to slash offending by 30 per cent by 2017 for prisoners in the units. The goal is 5 per cent higher than the overall target for the general prison population.
Corrections' first Maori Focus Unit opened in 1997 at Hawkes Bay Regional Prison. Rimutaka, Waikeria, Whanganui and Tongariro also operate the standalone 60-bed units.
Changes have been mooted for four years after two evaluations questioning the effectiveness of the units.
One found the units lacked a comprehensive and overarching strategy and needed to better provide wraparound support for prisoners. The other evaluation said prisoners found the environment engaging and rewarding but recidivism statistics reflected only modest results.
Corrections' acting director for Maori, Uarnie More, pointed to prisoners who did a Maori Therapeutic Programme, which is available in the five units and at Ngawha.
A year after release from prison, there had been a 3.5 per cent reduction in re-imprisonment to 22 per cent. There had also been a 15 per cent reduction in reconviction in the same period to 34 per cent.
But after 24 months of release there was no effect on the 49 per cent reconviction rate.
Ms More told the department more needed to be done to help prisoners reintegrate into the community. She has led the review project with two Corrections regional commissioners and an iwi governance board with membership from Ngati Kahungunu, Ngati Raukawa, Taranaki Whanui and Tupoho. As a result of the review, changes from October include:
More involvement from offenders' whanau in their rehabilitation. Parenting and Alcohol and Drug courses are examples where family could sit alongside prisoners.
Involvement in the Maori Therapeutic Programme where prisoners "front up" to their families about their offending.
A Whanau Ora planning process paid for by the Whanau Integration, Innovation and Engagement fund. Whanau plans, which can cost up to $5000, are developed to help an inmate chart a crime-free path.
Partnering with tertiary institutions to provide some level one and two programmes, as well as linking te reo and tikanga classes to the qualifications framework.
Whanau liaison - pou arataki - workers will be "refocused" to work with prisoners and their families to resolve longstanding issues.
"[Maori Focus Units] noticed a lot of our men have positive and supportive whanau who want to do more while their man is in prison," Ms More said. "Half of our men have positive relationships, the other half are disengaged to non-existent."
Pou arataki would help to reach the 2017 goal. Getting buy-in from families and prisoners whose relationships had broken down would be the challenge.
Two views on the changes
Kim Workman - Ex-prison service head
"I think it will work. I was in Brazil about 12 years ago looking at some of the faith-based units. The prisoners couldn't go to these units unless the families contracted to take part in the rehabilitation process. The families not only had to agree but they had to actively participate in the programmes. I don't think the new model will do any harm and if you see some improvement in the recidivism rates, that's a good thing.''
Greg Newbold - Sociologist, former inmate.
Mr Newbold was unequivocal that the changes would not make an impact. ``This looks like a dream that's been dreamed up by a Pakeha or a middle-class Maori that doesn't have any idea of the life reality that these people come from. Most of these kids who end up in prison are there because of their useless families, because their families have never been involved. They've been abused and kicked and shoved into gangs instead. Having this idea that you're going to get the families to bowl along to the prison is just a silly dream.''