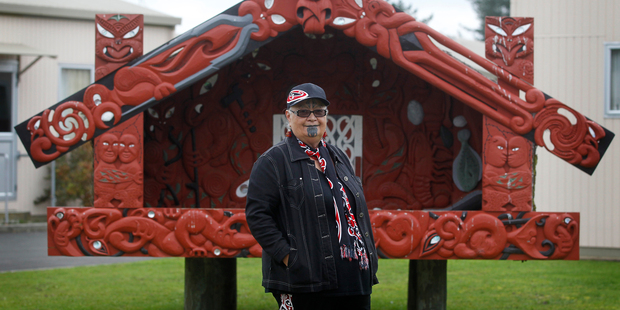 Hinewirangi Kohu-Morgan is a boss inside Waikeria Prison.
She's a Maori woman teaching Maori men how to be men. The 66-year-old teaches the 60 in the unit the art of formal speechmaking, haka and waiata.
She has a strong hand in running Maori Therapeutic Programmes - courses which aim to show prisoners what triggers criminal behaviour and what strategies can be used to address it.
She is not to be trifled with.
"They don't offer me any challenge because every naughty man in here I can meet. I got one naughty one from Ngai Tuhoe right now - that little dreadlocked s*** and I want to kill him, I want to screw his neck.
"I want to pull his balls off. I want to slay him, but that's my challenge - I'm going to win him. Before this MTP is over I'm going to win him and that's the challenge."
The grandmother has been with Corrections for 19 years and is passionate about her work.
One prisoner, Rameka, says the men appreciate the dynamic of having a woman in charge.
" She's a strong woman. If you're doing something wrong she'll put you in line straight away.
"The thing is you actually respect that and you learn to do that because a lot of us don't learn to respect women. That's why half of us are here. But in here you start respecting your elders so when you get out of here you respect your wife or whoever is in your family."
George is a 26-year-old who spoke on behalf of the unit during the morning powhiri. He is clear that a functioning support network will be his greatest challenge once he leaves prison in 2016. "My family, they're workers but they're alcoholics."
He has a hearing problem he needs to get fixed. He is learning skills to deal with life after prison, but hope is a fragile thing to have and he wonders if he will cope.
"Life is too hard for me."
We spoke inside the dining room where his unit had performed haka and sang a medley while guests ate sushi, little pies and cupcakes for morning tea. One old man stood up after the unit had performed and said in Maori that he'd never had a whanau until he'd come to the unit.
It's a common story, George said.
"I have a bit of that too. Most do. I have no family coming in to see me. They tried but they've got something else going on."
Principal corrections officer Eddie Harihari, from Tainui, has been at Waikeria for 20 years, the last three inside Te Ao Marama after he was rotated in by his superiors.
He didn't want to come here, didn't like the idea of Maori learning about being Maori inside a prison.
"I realised a lot of these guys never had the luxury of going to a marae. I wasn't against it but I could never work here."
Mr Harihari is now a convert. He takes pride in the men who leave and who don't come back. He caught up with some in Whakatane recently who were doing well, and it's on days like that he believes the programme is making a real difference.
There are Beyond the Badlands prisoners here, he says.
"For all the good the guys can do for themselves within this environment, the key to it all is actually when they get out. If there's not ongoing wrap-around support they just drift back to their old friendships, they drift back into negative behaviour."
Names of prisoners have been changed.