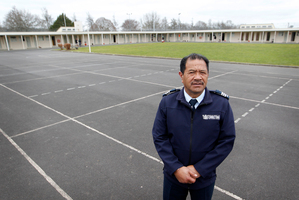 Damian came to prison when he was barely into his teens - he's doing life and it will be years before he'll come up for parole.
He sticks out in the unit, not so much because he is a Pakeha but because he's giraffe-like here, tall and skinny, a good head taller than most of the men inside. He's a young man now. His motivation for entering the unit had been simple, he said. He had time and he wanted to use it to learn a new language.
"I was sitting ... at the youth [prison] and everyone was talking Maori. I thought 'I can't stop Maoris from talking Maori' so I thought 'I'll learn it and then I'll know what everyone is talking about.'
"I reckon about 80 per cent of the men come in here, they don't know anything or not much. So everyone starts at the same level. It doesn't matter if you're Pakeha or Maori."
Gang affiliations are left outside the gates here, unlike other units, and there is an understanding that prisoners will be supportive of each other. That mattered because prison could be an isolating place, he said.
"Everything is about whanau. Everyone works together, helps each other.
"I think my confidence before I came here, I was shy, I didn't talk to anyone. I was basically a loner. Now I'm standing on the pae [where orators speak] going around talking to everyone. I'm a happier person. More confident."
On Monday, Wednesday and Friday there is whakapakari tinana - exercise. In the afternoon haka, waiata or reo lessons. Tuesdays is cleaning day. Thursdays, maurakau (martial arts training). Lock-up is at 8.30pm, extra reo and whaikorero classes happen at night for those who've been outside on work programmes. Twice a week the entire unit practises their musical routine performed on whanau days.
Weekends are for sport or study. There used to be inter-unit sports before smuggling ruined it, he says. He's learned to paint and is taking an art course.
There's no guarantee he won't reoffend, but Damian doesn't see it that way. He's luckier than many in here. His family drive six and a half hours every three weeks to visit him.
"Before I came here ... I was behaving. It was just one mistake and then I ended up in here for just one thing. Yeah, I've learned from that. Dealt with it. My whole life has been crime-free except for the one incident so I'll be going back to a normal life."
Names of prisoners have been changed.