Mentally ill victim failed by system, say family members. Tragic accident, say police.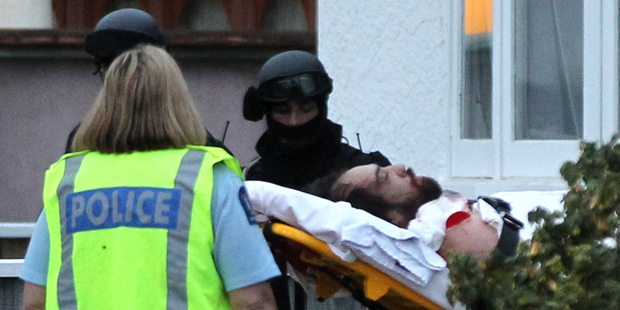 A man accidentally shot in the back by police has a history of mental illness and had previously asked for psychiatric help.
Iriheke Te Kani Manu Pere, 33, suffered a critical injury on Friday when a Bushmaster rifle carried by an armed offenders squad member went off following his arrest.
The 33-year-old was still in the hospital's intensive care unit today, but a spokesman said his condition had improved from critical to serious over the last day.
Pere has been under the care of mental health services for nearly 15 years and he and members of his family have claimed in the past he'd been let down by the system.
This time it was the justice system that let him down. A single gunshot pierced Pere's upper back while he was being helped to his feet after being placed under arrest and cuffed in Hastings on Friday. He was complying with police at the time.
The rifle was slung on an officer's shoulder and police could not say yesterday whether the safety catch was on. Pere was last night in a serious condition at Wellington Hospital with family at his bedside.
Pere has a long list of offences, attributed to his mental illness, including threatening to blow up a petrol station and robbing a liquor store armed with a loaf of bread.
In five years from 1999, Pere racked up 34 convictions, including arson, assault, robbery, disorderly behaviour and escaping police custody. He has been in and out of prison and the Hawke's Bay mental health inpatient unit since 2005.
In 2006 his mother told Hawke's Bay Today her son should be in a psychiatric ward, not in prison.
Pere had begged for psychiatric help, she said, just hours before robbing the Angus Inn bottle store in Napier armed with a loaf of bread.
She wanted to know then why her son was two weeks overdue for a court-ordered injection of anti-psychotic medication.
"He came to them when he needed help and they absolutely failed him," she said.
Yesterday police promised a no-stones-unturned investigation in what they say was a tragic accidental shooting.
Police Acting Assistant Commissioner Glenn Dunbier said Pere was wounded by a shot from a Bushmaster M4 rifle.
He stressed though police were at the scene because of reported behaviour by Pere, "He was compliant and was not resisting."
Forensic tests would be carried out on the firearm.
- addditional reporting APNZ