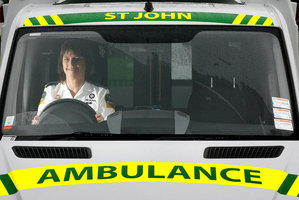 Nearly a quarter of people invoiced for St John ambulance treatment aren't paying - leaving the emergency service millions of dollars out of pocket.
St John treats 400,000 patients each year and about 185,000 callouts result in an invoice for a part charge. New Zealanders are charged $75 or $84 depending on the region. Non-eligible visitors to the country are invoiced for $769.
But 23 per cent don't pay. St John operations director Michael Brooke says there are several reasons.
"Sometimes we don't have the information on where or who to bill; or we have incorrect or incomplete information; some people can't pay because of financial hardship; and some won't pay."
That's despite a survey last year showing most people think a part charge is fair and realistic. Just 21 per cent of those surveyed said they would not be happy to receive a bill for a part charge.
According to St John figures, the service wrote off bad debts of $2.9m for the financial year 2011-12.
Brooke says that amount would cover the cost of operating three frontline ambulances around the clock with two crew for a year.
Brooke says the part charges are a necessary and important contribution to St John, a charity that is not fully government funded.