On-the-ball rugby coach Sister Bernadette ensures Leon Wijohn is laced up and ready to score some tries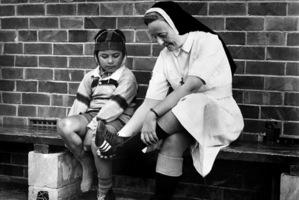 As young Leon Wijohn learned to lace up his boots for his first rugby season, the seed for his love of the game was planted.
It led to him teaching his own boys how to sort their sprigs out more than three decades on.
Wijohn fondly recalls the days of learning to tackle on the St Pius X Convent School fields, where Sister Bernadette, pictured right, coached her 7-year-old pupils in skills in different sports.
"I remember the mornings, getting out on to the field and running around, scoring a lot of tries," he says. "At that age, we didn't actually play in rugby boots, we'd play in bare feet. It was all good fun."
Wijohn played rugby for Marist throughout and beyond his schooling, before moving to the Grammar Carlton side of town for a couple of years. Later, he coached his older son Josh's team back where it all began - the Marist clubrooms. Nowadays, Wijohn is assistant coach for his younger son Luke's Ponsonby team.
"Now I walk around the streets and see people that I've coached and it's nice to have that connection, to be a small smidgen of where they're going."
Wijohn believes it's not all about the game. "It's also about teaching the kids life skills. It gets them used to turning up to things, being reliable and working as a team."
Photographer Geoff Dale, who captured the image, snapped Wijohn and his wife for a Herald Homes feature in 2008, where the two did not recognise each other. "Goodness gracious, what a coincidence," Dale says. "I was very proud of that photo. I was sort of showing the religious side of people being Kiwi and down-to-earth."