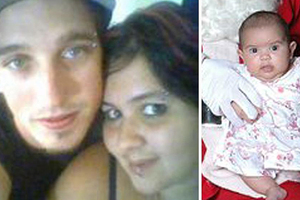 A man has plead guilty to the murder of six month old Serenity Jay Scott-Dinnington at the Auckland High Court yesterday.
Mathew Shane Ellery pleaded guilty to her murder following her death in 2011.
Serenity was injured in her Ngaruawahia home on the April 26, 2011 and she died of a traumatic head injury two days later in Auckland's Starship Hospital.
Police have thanked the Ngaruawahia community for their support and encouragement during the investigation.
Ngaruawahia residents turned their outrage at the crime into practical support and help for the investigative team, playing a significant part in the successful resolution of the investigation.
Serenity, who had just learned to crawl, was found lying in her room with eyes half-opened at the Havelock Rd home she shared with her mother, uncle Drew Scott and Ellery.
She had severe brain injuries, a broken rib cage and genital injuries.
Detective Senior Sergeant Mark Greene said the investigation itself was lengthy and challenging for police and experts who assisted.
Ellery's guilty plea was a tribute to their dedication and resolve and that ultimately some justice had been achieved for baby Serenity, he said.
The case reinforced that the most important role for all parents and carers of children was to love, care for and protect their children, Mr Greene said.
On January 6, Ms Scott gave birth to a child fathered by Ellery. Child, Youth and Family took the baby less than 48 hours later.
Ms Scott's 6-year-old son, Travis, has been in CYF care since the incident last year.
Ellery appeared with Ms Scott on Campbell Live last year to protest his innocence and to rebut claims that he had anger issues.
He said in the interview that he had tried to do CPR on Serenity. ``It was too hard and it wasn't working. Chelsea was a mess and I was shaking.''
Ms Scott was asked if she believed that Ellery was not responsible for Serenity's death. She said: ``Yes, I believe him. People haven't seen the way Matthew is with kids.''
Ms Scott said she knew who the baby's killer was and pointed the finger elsewhere.
On Facebook earlier, she had said the killer was walking around ``as if nothing had happened'' and she wanted to see justice done. ``I know for a fact who killed her.''
Serenity's death also prompted the establishment of Nark (Nation of Advocates for the Rights of Kids) - which was later mired by allegations of mishandled finances.
- APNZ