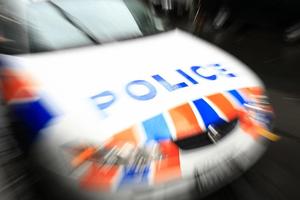 Three suspects are being searched for after a Buddhist monk was attacked in a vicious robbery in south of Auckland last night.
Emergency services were called to the Buddhist temple on Beaver Road in Bombay around 8.40pm yesterday.
A 58-year-old Vietnamese monk on the premises at the time was assaulted and then handcuffed before the offenders fled.
Police currently investigating the "particularly nasty'' assault were asking the public for assistance to help identify the three offenders involved.
The offenders smashed down the harmless monk's front ranch slider and then assaulted him, before binding him with handcuffs and leading him to the temple.
The offenders continued to assault the monk and took property from the temple before leaving the monk unconscious and attempting to get away in his vehicle.
When they could not leave the premises in his vehicle they abandoned it and left by other means.
The monk suffered a number of fractures and a significant head wound and was receiving treatment in hospital.
Police described the attack as vicious and unprovoked, and said the public could help by providing any information which may identify the three offenders.
A scene examination was in the process of being completed and a number of other inquiries were being followed up.
A number of suspicious vehicles had been seen in the area in the days prior to the attack.
Police were also interested in any sightings or information about a blue 2000 Mazda Capella hatchback, registration ESJ401.
Anyone with any information can contact either the Counties Manukau CIB on 09 2611300 or Thomas.gollan@police.govt.nz.
Alternatively if they wished to remain anonymous they could contact Crime Stoppers on 0800 555 111.