Victim impact statements fail to elicit whereabouts of mother's body as 6 1/2 year sentence is handed down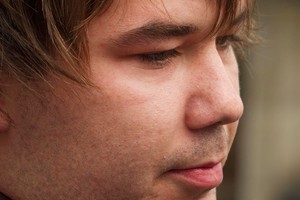 Danielle Cameron remembers her friends showing up laden with presents for her 10th birthday at the L&P cafe in Paeroa.
But all she really wanted was to see her mum, Sara, who had organised the party but had not been seen or heard from for two days.
Her grandmother Eileen Marbeck tried comforting her by saying she was probably at a friend's home and not far away.
"She will come, don't worry," she said assuringly. But Sara Niethe never returned.
Yesterday the man long suspected by Ms Niethe's family as her killer, Mark Pakenham, was sentenced in the High Court at Hamilton on a charge of manslaughter.
Pakenham had earlier admitted he provided the Kerepehi mother of three with an "accidental" overdose of methamphetamine.
His sentencing - more than a decade after Ms Niethe disappeared on March 30, 2003 - almost closed the book on years of denials from the 50-year-old and heartache for Miss Cameron, her older brother Dion, younger sister Simone and Ms Marbeck.
But the mystery of where her body is still remains.
The court yesterday heard how Pakenham's "memory loss" had hindered him assisting police in their search for Ms Niethe's body despite an earlier admission to an associate in 2009 that he knew where she was.
During the same conversation Pakenham admitted to giving Ms Niethe a "shot of meth".
"She'd never been blasted before and it f***ed her," Pakenham was recorded saying. He told the friend Ms Niethe's death was not "a nice way to go".
But he only admitted the situation once police replayed him the recordings two years later.
Miss Cameron, 20 and pregnant with her first child (a boy due in three weeks) said her family had never made a direct plea for Pakenham to show some compassion and reveal her whereabouts - and instead prayed for a change in his heart.
"I don't see the point in him not telling us now, it's not like he's losing anything ... I just think it's bull****," she told the Weekend Herald shortly before his sentencing.
"I just want him to tell us where mum is and that is pretty much it. I just want to know where she is - I don't want to know about the circumstances of her death."
But despite victim impact statements from Ms Niethe's oldest child, Dion Chamberlain, and Ms Marbeck's brother Lee, detailing how their lives have been tormented by their loss, Pakenham would not reveal where Ms Niethe's body is.
His lawyer, Paul Mabey QC said the shock and trauma of her death had possibly led to him forgetting.
Justice Timothy Brewers said he accepted Pakenham was under the influence of drugs and in shock when he hid Ms Niethe's body but said he composed himself enough to return her sunglasses, phone and cigarettes to Ms Niethe's youngest daughter the next day.
"... you still did not tell the family or the authorities."
He denounced Pakenham's decision not to render assistance to Ms Niethe, and it would never be known if he could have saved her life.
"You saw her die and did nothing to help her."
He also denounced Pakenham's violent offending against women and the fact he continues to "conceal" the body and the car.
As he sentenced the 50-year-old to 6 years and 7 months in prison on the charge of manslaughter and two separate counts of injuring with intent on matters relating to other women in incidents dating back to the early 1990s, there were gasps of disbelief from Ms Niethe's family and friends.
Ms Niethe's best friend, Rachel Mains, said Pakenham didn't care and her friend was "alone in the dark, somewhere".
She doubted the methamphetamine-taking was consensual and spoke of a phone call she received from Ms Niethe a month before she went missing.
"She rung me up because she was upset because he had injected her and she didn't do P ... ," she said.
Ms Mains said Pakenham's reasons for not revealing where her body is were clearly sinister and motivated by a desire to protect himself.
"He fears that when we find her that she is battered and it will prove that he murdered her ... he probably did something really bad to Sara, I don't even believe it was an OD," she said.
Cop's regret over mystery
The man who spent a decade seeking justice for Sara Niethe and her family says he's gutted the whereabouts of her body may never be known.
Former Detective Sergeant Glen Tinsley, who headed the inquiry into Ms Niethe's disappearance, was hoping Mark Pakenham's sentencing would have provided a fulfilling exit from the force after a three-decade police career.
But Pakenham's sentencing date was delayed - as Pakenham sought a restorative justice session with the Niethe family - and Mr Tinsley, who retired from the police in June, has since started work as a private investigator.
Mr Tinsley said not finding Ms Niethe's body and Pakenham not revealing where it was remained one of his biggest regrets as a police officer.
"Clearly I'm gutted that we haven't been able to locate Sara. It's something that is going to bug me for a long time, or bug me forever if she's not located. I've invested 10 years of my life into this and I really feel for that family."
Mr Tinsley said Pakenham was always of interest to police as he was the last person to see Ms Niethe alive.
Mr Tinsley said law changes in 2005 and evidence from former associates had helped police.
" [Pakenham's] former partner was very co-operative, she helped us greatly knowing that she was terminally ill," he said.James Ihaka