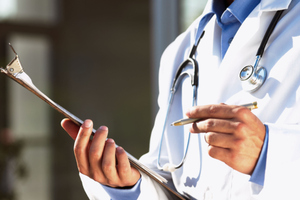 A young woman's mental health issues led to her lying about a sexual relationship with her doctor, a tribunal was told today.
Closing arguments were heard this morning in the Health Practitioners Disciplinary Tribunal hearing of a doctor accused of having a sexual relationship with a patient, and paying her about $40,000 to encourage her to mislead authorities about their relationship.
The doctor denies the charges, but accepts he breached professional boundaries by entering into a friendship with her after their doctor-patient relationship had ended. He says he paid her the money because she was blackmailing him.
He is also alleged to have videoed himself having sex with the woman, but denies being the man pictured in a two-minute tape recovered from a USB stick.
At the hearing today, the doctor's counsel, Harry Waalkens, told the tribunal the young woman's evidence was not believable, due to her mental health issues.
"It's an understatement to say there are several credibility issues in this case," he said.
The man in the video was clearly not the doctor, Mr Waalkens said, as the doctor had significantly less body hair and a larger penis, as well as other physical differences.
Mr Waalkens said there was also a lack of evidence corroborating the woman's claims, such as witnesses to her alleged visits to his apartment.
The woman had "stalker-like tendencies" and developed an infatuation with the doctor, he said.
Director of proceedings Aaron Martin said in closing statements that the doctor's version of events was an "audacious falsehood", while the woman's evidence was honest and forthright.
"No plausible or credible alternative has been presented," he said.
He said it was quite clear the doctor was the man in the video, and that the alternative was implausible. "What seems to be suggested is without having the opportunity to know what [the doctor]'s penis looks like... she has gone out and found another man who so closely resembles [the doctor] that a urologist can't distinguish the difference between the penises."
Mr Martin said it would have been an ordeal for her to give evidence in the case, and she had nothing to gain.
The doctor also faces charges relating to prescribing a drug without clinical justification, and inadequately discharging a patient.
The tribunal reserved its decision.
- APNZ