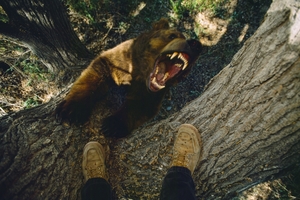 The part-title of his photographic show signposts the natural world Joel Sartore inhabits - "Grizzlies, piranhas and man-eating pigs."
The American author, teacher but above all photographer has been contributing to National Geographic magazine for 20 years.
The images here capture camera work which has taken him to all corners of the Earth - and into the crosshairs of a few animals.
He says he has been chased by wolves, grizzly bears, lions, elephants, polar bears and musk oxen.
Sartore has also contributed to Audubon Magazine, Geo, Time, Life, Newsweek, Sports Illustrated and numerous book projects.
The 51-year-old is in Auckland next week for a show at the Auckland Town Hall on Friday, and to spend time at Auckland Zoo photographing some of its rarest creatures. Sartore is documenting endangered species and disappearing landscapes "to show a world worth saving."
Tickets for the August 23 show are available from buytickets.co.nz