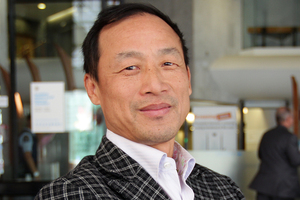 The daughter of a man fatally stabbed during a confrontation at a Mt Albert mansion said her father's life was "cruelly and unjustly taken from him".
Auckland businessman Cheng Qi Wang, 54, was today sentenced to four years in prison for the manslaughter of Yishan 'Tom' Zhong after a struggle at Wang's $2 million Mt Albert home on January 14, 2011.
Mr Zhong, 53, and Mr Zhuo 'Michael' Wu, 44, were both killed after confronting a pyjama-clad Wang on behalf of Wang's estranged wife, Michelle Chen, who wanted him to move out of the marital home.
Wang was found not guilty of murdering both men at the end of a trial in July after arguing self-defence.
In sentencing before Justice Geoffrey Venning today, the High Court at Auckland heard Wang was instead found guilty of manslaughter over the death of Mr Zhong. He was not charged with the lesser offence over the death of Mr Wu, who had been carrying a knife.
Justice Venning said he accepted the jury's finding that Wang had acted in self-defence and there was "serious provocation" by Mr Zhong.
But because Mr Zhong was unarmed, the jury found Wang had gone too far.
"I accept you had no intention of inflicting the fatal wound," said Justice Venning.
"While you deliberately stabbed him, you did so in the course of a struggle."
Crown prosecutor Kevin Glubb contended Wang stabbed Mr Zhong in the back as he tried to retreat.
However defence lawyer Tom Sutcliffe argued Mr Zhong was stabbed while being used as a human shield by Wu.
Justice Venning considered both versions of events and said the truth probably lay somewhere between the two.
Both Mr Zhong and Mr Wu were known to Wang through previous business deals.
The court heard how on that morning in 2011, Mr Wu and Mr Zhong had gone to Wang's property to confront him and encountered a female associate of Wang in his lounge.
They made their way to Wang's bedroom, with Mr Wu arming himself with a kitchen knife on the way.
When Wang realised Mr Wu was armed, he picked up a hunting knife from his bedside table and a melee insued.
In the course of a violent struggle on the floor of Wang's bedroom, Mr Zhong attempted to throttle Wang, who bit his arm.
Mr Zhong suffered the fatal stab wound to his back and stumbled downstairs to the garden.
At that point Wang called an ambulance.
Mr Zhong's family could not be present at the sentencing, but in a victim impact statement from his daughter Ying Ying 'Jade' Zhong the court heard of the emotional and financial toll his death had taken on the family.
"Every day since that day not a day goes by that I don't cry for the loss of my father," the statement read.
"The sun will come up again for us but it will never come up again for the real victim of this crime - my father."
In sentencing Wang, Justice Venning took into account that he was already serving a sentence of two years nine months for money laundering, and had offered to pay $30,000 reparations to Mr Zhong's family.
Outside court, Sensible Sentencing Trust spokeswoman Ruth Money said the sentence was "incredibly offensive to the victim's family and the public".
- APNZ