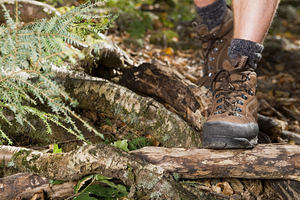 The death of Dunedin man David Palmer in the Ahuriri Valley in May last year may have been avoided if he had carried a personal locator beacon, a coroner says.
If the University of Otago Health Sciences Library team leader had been alive and conscious after falling into a creek bed - although he was probably not in a condition to activate a device - he could have switched on a beacon to alert rescue authorities, Otago-Southland coroner David Crerar said after an inquest into the fatality.
"There is a possibility that, if he was alive, he could have been found and rescued," the coroner said.
Mr Crerar drew to the public's attention the availability and advantages of using personal locater beacons, even recognising there were "dead spots" in some areas which might affect the signal to a satellite.
He found Mr Palmer died in the Dingleburn in the Ahuriri Valley on May 5-6 from exposure complicated by multiple injuries sustained in a fall and hypoglycaemia from type one diabetes.
Evidence at the inquest was Mr Palmer, 53, went tramping on May 5, intending to be away for a day. He was an experienced tramper and outdoorsman, who always tramped alone.
Fit and appropriately equipped and experienced, he suffered from type one diabetes, but was meticulous in planning and self-managing his medication. When Mr Palmer did not return, as expected, to his home in Dunedin that night, a flatmate contacted police the following day. Once Mr Palmer's car was found parked at the start of the Dingleburn track, a search was started immediately involving search teams and a helicopter with the crew using night-vision goggles.
Daily searches, with helicopters and up to 60 volunteers, continued until May 11 without finding Mr Palmer. The police search was promptly organised and competently conducted, Mr Crerar said.
Local volunteers and search and rescue personnel continued searching when they could, in the hope of finding Mr Palmer to give closure to family and friends.
On May 19, his body was found, still wearing a backpack which indicated he may have died within 24 hours of the fall.
Omarama Constable Nathan Smith found a 1m-long skid mark in moss about 30m to 40m up a steep bank above the body. It appeared to have been made by a shoe slipping sideways.
About 10m above the creek bed the fall was vertical from below a large tree where a cap was found.
Reconstruction by police was that Mr Palmer was returning to his car when he encountered a false spur. Rather than turn back, he sidled around the edge of it, slipped and fell down the slope to the creek bed.
Mr Palmer's injuries were serious, he was likely immobilised and lying in water at a time when winter was approaching and temperatures were low. Diabetes was likely to have reduced his ability to survive, Mr Crerar said.