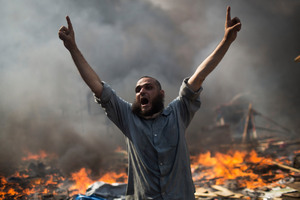 New Zealanders are being urged to stay away from Egypt and North Sinai after violent clashes yesterday.
Devastated families have been searching through a sea of bodies in a Cairo mosque where some of the more than 600 dead lie.
Violence also spread, with government buildings set on fire near the pyramids, policemen gunned down and scores of Christian churches attacked.
A New Zealand Fijian woman Michelle Rounds, who lives on a street at the end of Tahir Square, said she was safe and a curfew was helping the situation.
The Ministry of Foreign Affairs and Trade updated its travel advice for Egypt saying a state of emergency had been declared.
A curfew has been set between 7pm and 6am.
In a statement, the ministry said due to the unpredictable political situation, civil unrest and threat from terrorism, New Zealanders should not visit Egypt unless it is essential.
"New Zealanders currently in Egypt are advised to avoid all protests and large public gatherings, exercise a high degree of security awareness in public places and adhere to any instructions issued by the local authorities.
New Zealanders in Egypt are strongly advised to register their details with the Ministry of Foreign Affairs and Trade via www.safetravel.govt.nz.
A spokesman for the ministry said there are currently 220 New Zealanders registered as being in Egypt.
- APNZ