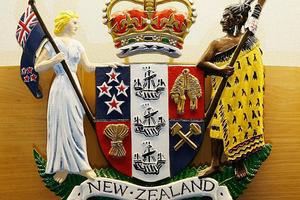 A soldier accused of indecently assaulting one 13-year-old girl and raping another has been found not guilty on all counts.
Brian John Kelly, 43, of Waiouru, a New Zealand army warrant officer, was charged with six counts of performing an indecent act on a young person, one of sexual violation by unlawful sexual connection, one of sexual violation by rape and one of attempted sexual violation, all allegedly committed on the night of July 30 and 31, 2011.
The father-of-four had denied all nine charges throughout the trial, which began on Monday.
In his summing up at the Whanganui District Court this morning, Judge Fred McElrea told the jury of seven men and four women it was important to put aside any feelings of sympathy and prejudice toward either the two complainants or Mr Kelly himself.
He said the jury would need to consider all the evidence before them, including the inconsistencies of the two 13-year-old complainants' evidence and how the stories changed each time they were told.
He used the party game Chinese Whispers as an example of how a story told to one person can subtly change as it is passed on, and that it was reasonable to expect inconsistencies in such a situation.
He also addressed the forensic evidence produced by the Crown which showed possible male saliva in the chief complainant's bra, and that an internal swab showed no male DNA but that did not necessarily mean the rape didn't occur.
Defence lawyer Michele Wilkinson-Smith had argued the chief complainant, the alleged victim of eight charges including rape, had created a "seduction fantasy'' which got out of control when her parents got involved.
Crown prosecutor Megan Jacquiery said the sexually-inexperienced complainant was taken advantage of and ``not equipped to deal with the sexual advances'' of Mr Kelly.
The jury retired at 10.30am and returned at midday with a unanimous verdict of not guilty on all charges.
Outside the court Mr Kelly declined to speak with media.
For more articles from this region, go to Wanganui Chronicle