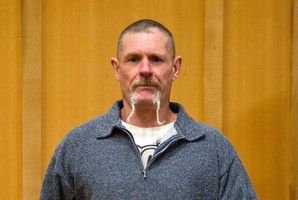 Mark Pakenham, the man who admitted to killing his girlfriend Sara Niethe 10 years after she went missing, has been sent to jail.
In the High Court at Hamilton this afternoon, the 51-year-old was sentenced to 6 years and 7 months with no minimum non-parole period for "accidentally" killing the mother-of-three by drug overdose on March 30, 2003.
The court heard that on the day Ms Niethe died, she went to Pakenham's house and the couple drank bourbon, smoked cannabis, and had sex.
Pakenham later told police the couple had an argument and Ms Niethe left in her mother's car.
But the court heard that Pakenham injected Ms Niethe with the then class B drug methamphetamine.
In recordings police took of Pakenham talking to an associate in 2009, he admitted to giving Ms Niethe a "shot of meth".
"She'd never been blasted before and it f*#ked her," Pakenham was recorded saying.
He told the friend Ms Niethe's death was not "a nice way to go" after she began squirming.
He only admitted the situation once police played him the recordings in 2011.
Justice Timothy Brewers denounced Pakenham's decision not to render assistance to Ms Niethe and it would never be known if he could have saved her life.
"You saw her die and did nothing to help her."
Justice Brewers also denounced Pakenham's violent offending against women and the fact he continues to "conceal" the body and the car.
He said he accepted Pakenham was under the influence of drugs and in shock when he hid Ms Niethe's body but said he composed himself enough to return her sunglasses, phone and cigarettes to Ms Niethe's youngest daughter the next day.
"...you still did not tell the family or the authorities."
But the question of where Ms Niethe's body is still remains.
In a victim impact statement read by Ms Niethe's son Dion Chamberlain he said Pakenham had put the family through extreme distress for 10 years by withholding the fact their mother, sister and daughter was dead.
Mr Chamberlain said Pakenham now had the audacity not to divulge where he had disposed of Ms Niethe's body, causing the family great grief.
"I want my mother back," he said.
Ms Niethe's brother Lee Marbeck said he believed Pakenham's refusal to say where her body was located is because "you have something to hide".
Pakenham admitted the manslaughter charge by administering the methamphetamine in February this year after denying he had anything to do with the Kerepehi woman's disappearance for more than a decade.
He initially told police that Ms Niethe had left his Kaihere home, 35km north west of Morrinsville in the Waikato to drive the 10 minutes to her house prompting authorities to search riverbanks and canals.
But as her daughter Danielle's 10th birthday approached police came to the conclusion she had not left home as suggested.
Pakenham was arrested in August 2011 after a renewed investigation by Waikato police which discovered that he had made partial confessions to associates that he was implicated in the cold case.
He was initially charged with murder and was to face trial but that charge was reduced to manslaughter.
Pakenham was also sentenced on two separate charges of injuring with intent to injure two other women in Auckland between 1990 and 1992.
Outside court, Ms Neithe's best friend Rachel Mains slammed the sentence as too short and said she did not believe Pakenham's story that her friend died of a drug overdose.
Ms Mains said Pakenham would not reveal where the body was because it would show he murdered her.
"He fears that when we find her that she's battered and it'll prove that he murdered her. He probably did something really bad to Sara. I don't even believe that it was an OD and I certainly don't believe she consented.''
She choked back tears to call Pakenham scum for not giving up the body's location.
"He doesn't care. He doesn't have a heart. And my friend is alone, in the dark, somewhere.''
Ms Mains said she spoke to her friend a month before she disappeared and said Ms Niethe described an alarming incident in which Pakenham allegedly forced her to take methamphetamine.
"She was upset because he had injected her and she didn't do P. He killed her, he meant to do it, and I hope he rots.''
The court heard that Pakenham had bruised Ms Niethe's arm in the incident.
Mr Chamberlain said he wanted the public to see parts of his victim impact statement that were disallowed in court.
It showed he too believed Pakenham murdered his mother when he was just 12.