Transparent sets will cost $2 a week and are part of plan to help inmates manage their lives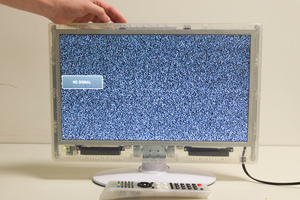 New rental televisions for prisoners are one step in a long-term plan to have inmates manage their lives from their cell.
The plan is to introduce self-service kiosks which allow prisoners to choose their dinner menus, organise their finances and choose educational courses.
The Corrections Department is giving all prisoners clear, plastic-cased televisions to reduce the likelihood of drugs or weapons being smuggled into jail and to reduce the cost of checking for them.
At present, prisoners could bring their own televisions from home into their cell when they began their sentence.
Corrections officers had to pull the TV sets apart to search for contraband, a time-consuming task which was estimated to cost up to $400,000 in resources each year.
Corrections Minister Anne Tolley said: "They're great places to smuggle contraband in ... and so we will provide the televisions in the cells and put them in so it's easy to see if there's stuffing or they're storing anything bad in them."
The TVs would also be more secure and remove any risks of inmates accessing the internet.
Prisoners would have to pay $2 a week to use the televisions, and would be able to access channels 1 to 4, Maori TV and Prime and two educational programmes which would be funded by the rental cost. Most inmates earned between 20c and 60c an hour for their work.
The new transparent televisions would be introduced at Christchurch Prison in November and rolled out in all prisons over the following year.
The TV sets could potentially be integrated into kiosks which the prisoners used to manage their lives.
Self-service kiosks were already available in prisons, but Mrs Tolley said that in future she wanted inmates to have greater access to technology which allowed them to manage their money and schedule as if they were outside prison.
"This is the first step. Eventually we would like to look at how we can help them manage their daily routines and things from their own cells.
"They would pick their menus, manage their bank account, and organise their education courses."
Mrs Tolley announced last week that every prisoner would get an educational assessment when beginning their sentence, and 85 per cent of youth prisoners would have an NCEA Level 2 qualification by 2017.
This meant prisoners' timetables would be arranged like those of a student in a secondary school or tertiary institution outside prison.
Under the National-led Government's Better Public Services targets, Corrections is aiming for a 25 per cent cut in reoffending by 2017.