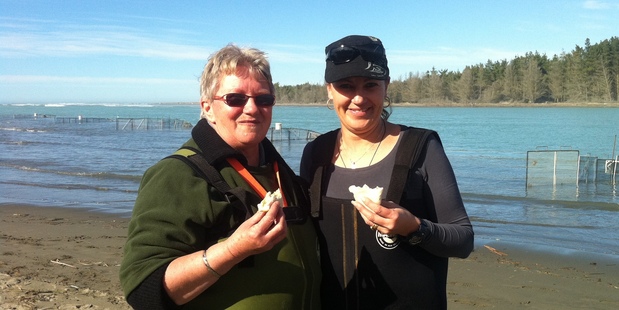 Trudi Stevenson and her mum Lesley McLean stood on the sandy shores of the Waimakariri river mouth this morning, eating a fritter made with hot, freshly-landed whitebait.
"It doesn't get any better than this," said Mrs Stevenson, enjoying a gloriously sunny opening day of a new whitebait season.
"I'm going to take a photo and of this and send it to my husband who's pouring concrete," laughed the 37-year-old from Loburn, 30km north of Christchurch.
Her riverside neighbour, Kelvin Schenkel, keeping to an unwritten space rule of his nets being 20m away, reckoned it was the best opening day for years.
Parked on the beach, he sat in his covered trailer converted into a whitebait season house-at-the-beach, complete with kettle, stove, stereo and fridge full of beers, eating his whitebait pattie.
"Great weather, good water, the fish are flowing. This is the best," said the 50-year-old tractor driver and mechanic from Rotherham in North Canterbury.
They were just a few of the thousands of enthusiasts perched beside New Zealand waterways trying to land some of the tiny, transparent delicacy.
The season opened for most of the country today, but the South Island's West Coast - renowned for having the best product - will have to wait until September 1.
Conservation Minister Dr Nick Smith was up at the crack of dawn this morning to join in the season opening at Waimea Inlet near Nelson.
"I am not expecting a particularly good catch this season," he said.
"Anecdotal evidence suggests that in drought years, particularly when autumn is dry like this year, whitebait eggs are more likely to dry out before they hatch meaning catches are less."
Gary Brown of West Coast-based Cascade Whitebait wholesalers wasn't so sure.
"It's one of those wait and see things. As always we just hope it's going to be a good one."
Whitebait lovers were likely to pay between $140 and $180 per kilo in the shops, he believed.
Department of Conservation (DoC) biodiversity rangers will be out patrolling fishing sites and making sure nets are the correct size and not taking up more than a third of the water channel.
Dr Smith hoped people would stick to the regulations - or face fines of up to $5000 and having their gear seized.
"DoC will be taking a firm line on enforcement to protect the fishery for future seasons and generations," he said.
"I want people to get out and enjoy this traditional recreational past-time but I also want whitebaiters to respect the rules to ensure a sustainable fishery for future years."
Waimakariri DoC biodiversity ranger Anita Spencer said there weren't many rules, but they would be enforced.
The whitebait season runs until November 30, with fishing allowed from 5am until 8pm, changing to 6am to 9pm when daylight savings comes in.
Mr Schenkel will be at his favourite Waimakariri spot every weekend.
"Getting down here ... the peace and harmony, the people. This is what life is all about."
- APNZ