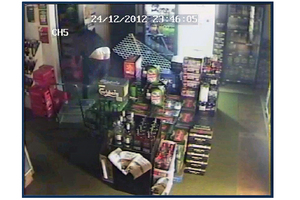 A Far North burglar who gained national notoriety as the 'Buttcrack Bandit' courtesy of an unflattering security image that went viral on the internet has been jailed for 18 months.
Lane Lewis Junior Toto, of Kaimaumau, burgled the Houhora Liquor Store at Pukenui - 40 kilometres north of Kaitaia - on Christmas Eve last year.
Security camera images clearly depicted the cheeky burglar's sizeable "builder's crack" - which local police commented "any decent chippie would be proud of".
Toto was sentenced to a cumulative seven-month jail term for the burglary and on an unrelated conviction of assault with intent to injure when he appeared before Judge Greg Davis in the Kaitaia District Court today.
According to the summary of facts Toto forced a door to get into the store, making two trips to his car with three boxes of Steinlager and two of cider. He subsequently told the arresting officer that he had not had any alcohol in a long time, and "suddenly got the urge".
It had been a rainy night, he added, "and that's what you do on rainy nights".
Counsel Michael Powell said his client had stayed out of trouble for 14 months between the incident that led to the assault charge and the burglary - Judge Davis replying that the defendant had effectively been on the run.
Toto's culpability in terms of the burglary was not high, Mr Powell added. He had been drunk and there was "virtually" no element of premeditation.
He conceded that his client's 22 previous convictions for burglary "raised the ante", but suggested a starting point for sentencing of 12 months' imprisonment, with permission to apply for home detention, in acknowledgement of his early guilty plea, his acceptance of responsibility for the offence and remorse.
Mr Powell also noted that the defendant had acquired a "whole bunch of certificates" during his six months on remand, suggesting that, at the age of 28, he had had enough of a life of crime.
Prosecutor Duncan Coleman asked for three years' imprisonment, saying remorse had only set in while Toto was in custody.
Judge Davis identified a number of aggravating factors, in that the burglary had been committed at night, on commercial premises with an element of premeditation, by a man with a significant criminal history. He acknowledged that the defendant had completed courses on subjects including parenting, how to pray, relationships and how to use a fire extinguisher, and that he had been described as a model prisoner.
The assault conviction followed an incident in Kaikohe in September 2011, Toto throwing a glass mug then a glass bowl at the eight-months pregnant victim, narrowly missing her with both, then forcing his way into the bedroom where she took refuge, pushing her on to a bed and punching her about five times in the "leg and hip area". The couple's 12-month-old daughter was also on the bed.
Judge Davis found a disturbingly sinister element to the assault, saying blows to the hip were far too close to the belly of a heavily pregnant woman to be anything but an attempt to inflict harm, in the presence of a young child.