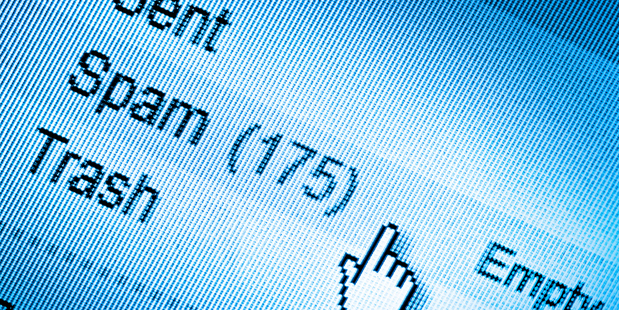 An Australian businessman has been fined $95,000 in Auckland for sending almost a million spam emails to New Zealanders after buying addresses from a data company.
Wayne Mansfield of Perth had more than 80,000 email addresses in his database to which he sent unsolicited messages about his business seminars over two months.
It is the third time someone has been penalised for sending spam.
In his decision in the High Court at Auckland, Justice Edwin Wylie said Mansfield was either deliberate or reckless and was "chancing his arm" by sending the spam.
Between April 5 and September 2010, the Department of Internal Affairs received 53 complaints about spam promoting the services of Business Seminars NZ.
It found the emails were campaigns for 16 seminars around the country. Some of the titles included "An Evening With A Marketing and Business Legend", "Someone is waiting for your call - don't be a Cold Calling Scardy Cat" and "Share the best new customer acquisition techniques with a master".
The contact information provided in the messages was similar to Mansfield's.
Business Seminars NZ had been struck off the companies register earlier in 2010, before the first complaint to Internal Affairs.
Under the Unsolicited Electronic Messages Act 2007, which came into force to combat spam, it is illegal to send people unsolicited commercial messages.
When an Internal Affairs investigator contacted Mansfield, he indicated he was confident his firm was "complying with the legislation's intent, and within the spirit of the rules it imposes on direct marketeers". But he was unable to provide evidence that the emails had been solicited.
At one point, Mansfield had more than 80,000 email addresses in his database and admitted he bought such information from a third party called Image Marketing Group. The department is also seeking penalties in the High Court against this company and its director, Brendan Battles.
Justice Wylie said on the balance of probabilities, he was satisfied the recipients could not be deemed to have consented to being sent emails.
One complainant said she continued to receive them after asking to be unsubscribed.
Said Justice Wylie: "Mr Mansfield at one stage told the department that he became aware that his electronic messages were being blocked by various internet service providers (presumably as spam), and that he changed his IP address to try and circumvent this restriction. Again, this indicates that the consent of the recipients had not been obtained."
The businessman also stood to have a financial gain from spamming because the cost for attending his seminar, according to his website, was $199 a day. The emails suggested he ran four events a day.
Justice Wylie said Mansfield's conduct was clearly either deliberate or reckless. "It is clear from his discussions with the department that he was aware of the act, and the prohibitions contained in it. He, in effect, was 'chancing his arm'.
"There is nothing to suggest that there were any steps taken by Mr Mansfield to try and ensure compliance with the act."
Justice Wylie reduced Mansfield's fine by $5000 for his "not unhelpful, but ultimately limited, co-operation" and settled on a $95,000 penalty, plus court costs of almost $8500 and other charges of $1800.
In 2005, Mansfield was the first person in Australia to be fined for email spamming.