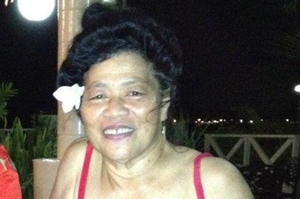 Four siblings - including a New Zealand-based woman - have been killed in one of Samoa's worst car accidents.
Valelia Faofua, 64, also known as Tinei, died when the van she was in with four others was in a head-on collision with a logging truck on Tuesday, Samoan police said.
Her three brothers - Australian Paulo Alesana, 57, and Atonio Alefosio, 62, and Manuele Alefosio, both based in the United States - all died instantly, police said yesterday.
A fifth person, a 30-year-old niece based in Samoa, was yesterday in a critical condition in hospital.
Emergency services were called to the accident, in the village of Lalomanu, just before 5pm local time.
Mrs Faofua is a New Zealand citizen and has lived here with her husband and children.
The siblings had travelled to their home country for a family gathering in their village of Saleimoa. They had been sightseeing around Lalomanu - severely damaged in the 2009 tsunami - when they crashed.
A witness yesterday described the van as "completely totalled".
"We just saw the van being taken by the tow truck.
"It was really smashed - the whole front. The steering wheel was out the front window. It's completely smashed."
Mrs Faofua's son Paulo "Chuck" Faofua told the Samoa Observer the family had been in the islands to celebrate his father's 70th birthday.
The group had just dropped him off at a resort in Lalomanu when guests told him about a crash.
"I didn't take much notice of what people were saying. Not long after, I thought I should just call them to see where they were.
"There was no answer. I dialled again. It kept ringing until a police officer answered the phone - I knew then it was them who were involved in the crash."
Mrs Faofua's husband, Fa'alafua Faofua, was in shock at the loss of his wife, made even harder given the family had been on holiday.
"We've been together for 43 years ... I miss her loving presence, the way she looks after the family."
A Ministry of Foreign Affairs and Trade spokesman confirmed Mrs Faofua had died in the accident and the High Commission in Apia was in touch with her next of kin.