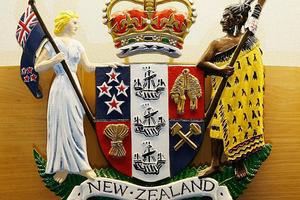 Two teenage girls have given evidence against a NZ Army warrant officer accused of sexually violating them.
The father-of-four's trial continued yesterday at Whanganui District Court with the chief complainant's parents also giving evidence.
Brian John Kelly, 43, a soldier, faces nine charges including performing indecent acts on a young person and unlawful sexual connection. The two girls were both 13 at the time of the alleged offending.
The court heard that on July 30, 2011, family friends of Kelly, including the two complainants, were at a party with the extended family of the accused in a Waiouru cafe-bar.
Later that night, Kelly allegedly groped one of the complainants, Miss A, at the cafe and around 2am on July 31 committed several indecent acts, including rape, on the other in his home.
Kelly denies the charges.
Both complainants gave evidence and were cross-examined during the trial's second day. Court rules prevent the reporting of their evidence.
The mother of Miss T was the first witness to give evidence in open court yesterday. She said her and her husband became good friends with the accused and his wife as Kelly and her husband served in the same army unit.
Crown prosecutor Megan Jacquiery asked her to describe the night of the alleged incident. The woman explained that late in the night she woke up and couldn't find her daughter, so she searched Kelly's home.
She said when Kelly emerged from the room where it is alleged he raped Miss T he seemed "quite calm and collected".
Her daughter and Miss A had whispered to each other on the way to their motel and were mostly quiet on the drive back to their home, north of Auckland.
Miss T's mother said a neighbour and friend of her daughter came to visit the next day and her mother later called for her to come over. It was then, she said, she learnt of the alleged incident.
"I walked in and [the neighbour] said '[Miss T] has something to tell you', and I just said 'Brian Kelly'."
When asked why she said this she told Ms Jacquiery she felt something had happened in the bedroom she saw Kelly leave and wanted to ask her daughter about it, but didn't get the opportunity.
She said over the next few weeks Miss T was unusually quiet and withdrawn, and that she found empty painkiller packets in her daughter's room.
At one point Miss T had asked what a vasectomy was and her mother asked why. Miss T said: "When he [Kelly] was doing it he told me not to worry because he'd had a vasectomy."
Defence counsel Michele Wilkinson-Smith put it to Miss T's mother she had told her daughter about vasectomies prior to this point but the witness said she had not.
Her husband, Miss T's father, was the next to take the stand and said he didn't see Kelly act inappropriately toward either complainant but noticed when everyone was saying their goodbyes the next day Miss A said "awkward" after Miss T hugged Kelly.
"I just thought ... they were embarrassed they had to kiss and hug this guy," he said.
The trial continues today.
For more articles from this region, go to Wanganui Chronicle