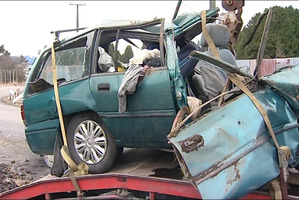 The New Zealand Transport Agency has acted on a coroner's recommendation that double yellow lines be painted on a stretch of central North Island road where four South American tourists died last year.
The driver German Caceres, 35, Nicolas "Nico" Lallana Ursic, 27, Luciano Pucheta, 19, and Agustin Donofrio, 25, were killed as they drove to their temporary home at National Park after playing a soccer match at Ohakune together on July 11.
The four Argentine nationals died when they pulled out within 50m of a bend to pass a New Zealand Post truck on State Highway 4 and collided with another truck travelling in the opposite direction.
A fifth man, 25-year-old Chilean Benjamin Blake, survived but was seriously injured.
Nico Ursic and Agustin Donofrio were the only ones wearing seatbelts.
Palmerston North Coroner Tim Scott today released his findings into the deaths, and recommended the relevant authority paint double yellow lines (no passing lines) at the site of the crash as soon as possible.
There were dotted yellow lines on the road at the time of the crash - which indicate it is safe to complete but not to start a passing manoeuvre - but these were mainly on the south-bound side of the road.
It was self evident why the crash occurred, he said.
"Little needs to be said about it. The facts speak for themselves. German commenced a passing manouevre in a place where it was unsafe to do so. He did not realise the truck driven by Waka Pomare was approaching and a head on collision occurred."
Mr Pomare was subsequently charged and convicted for an offence relating to driving in excess of his legal driving hours that day.
Coroner Scott said he probably should have been resting at Taumaranui about 80km away.
"Had he done so German would not have collided with his truck - because his truck (obviously) would not have been there to collide with."
However, Coroner Scott said Mr Pomare was "in no way responsible or to blame for what happened" and if his truck hadn't been there, the tourists' car would probably have collided with a car that was travelling behind the truck.
"There is no likelihood that [the driver of the other car] would have been able to avoid the crash anymore than Waka Pomare was able to - or unable to."
Furthermore, there could have been two additional victims, Coroner Scott said.
He recorded that the four men died as a result of various serious injuries as a result of high energy impact.
"I offer my sincere sympathy and condolences to the families of the four deceased young men who died so tragically and so far away from their homelands."
The New Zealand Transport Agency (NZTA) said the double yellow lines had now been painted. The NZTA investigated the crash immediately after it happened, said regional highway manager David McGonigal.
Its investigations recommended the extension of the existing yellow no-passing lines from a vertical curve south of the crash site for another 380 metres north to include the corner on which this crash occurred, he said. These recommendations were approved and the 'no passing' lanes were extended on 9 January this year.
"The Transport Agency takes its responsibility for road safety very seriously and if there is a simple change which can be made that can reduce the risk of future crashes, we endeavour to do it as soon as practical," he said.
- APNZ