The pregnant partner of a man killed when his van plunged off a highway bridge in Tauranga will remember him as the "best kind of dad".
Gregory Mark Woledge, 24, was trapped underwater when his Toyota van plunged off Maungatapu Bridge just after 6pm on Monday.
Chelsea Findsen, who is pregnant with Woledge's second child, called him the "best partner" and "best kind of dad", in a post on Facebook this morning.
"Words can't describe of how much I will miss you Greggy, best partner, so loving and best of all the best kind of dad anyone could ever ask for. I will always love you Greg."
Findsen said she and her children will keep talking to Woledge even though he is gone.
"No-one can ever take that away from us. Love you forever."
Earlier, a witness described a police officer's leap into cold water to save the life of the man who was travelling in the van with Woledge.
The police officer can now be named as Constable Deane O'Connor - a member of the Strategic Traffic Unit at Western Bay of Plenty Police.
Corey Crouch, who with his pregnant wife was lucky to walk away from a crash, is struggling to come to terms with what he saw after the van left the bridge.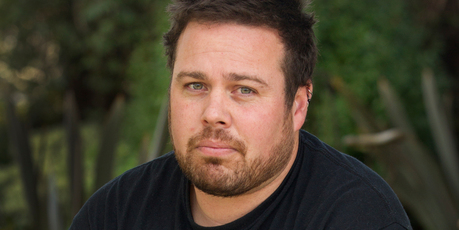 Daylight was fading fast as Mr Crouch, 31, headed home to Te Puke along State Highway 29.
Traffic had been flowing calmly when suddenly, about halfway over the bridge, a maroon sedan in front of them violently jerked into the other lane.
"It was driving dead straight, and then boom," a bruised Mr Crouch told the Herald from his home yesterday afternoon.
"It just veered straight across into traffic and very abruptly - to the point I could actually see the front of his car, he'd turned that much.
"That's about all I could remember, apart from having to slam on the brakes ... and lots of twisted metal heading at us."
He hoped his car would stop before colliding with the vehicle in front.
But his car hit the vehicle and the couple were slammed back as the airbags inflated.
After the impact his first fear was for his wife in the passenger seat, who is 25 weeks pregnant, and their baby. Both survived the crash with no apparent harm.
Amid the chaos he then found the driver of the sedan, covered in blood and slumped unconscious on his blown airbags.
"That's when we sort of turned and realised the other vehicle wasn't there anymore. The barrier on the bridge had gone, it was clear it had gone off."
Mr Crouch didn't even see the oncoming AMP'T Electrical van as it was knocked through the bridge railings and into the harbour metres below.
Those on the bridge saw a man in the water, a 23-year-old passenger who had managed to escape the sinking van, struggling in the dark. "He wasn't keeping himself up ... and obviously with the impact he must have been quite delirious to get out of the van and make it as long as he did before he needed help."
One man harnessed himself with a strop and dived into the cold water after him, but was unable to reach him.
Then a police officer arrived and began to strip off his clothes.
"I know the guy that was in the water wasn't keeping his head up, so he made the right call. I don't think the guy would have lived if he hadn't."
The victim disappeared beneath the water but re-surfaced as the 53-year-old officer grabbed hold of him.
The officer managed to calm the man down and turn him on his back as the pair were carried along in darkness by the current.
After half an hour, he managed to guide them toward searchers' flashlights on a beach more than 100m away from the crash site.
They reached safety exhausted, struggling to stand and suffering from hypothermia.
Both were taken to Tauranga Hospital, along with Mr Crouch and his wife, and the driver of the sedan, a 45-year-old Papamoa man, who remained there last night.
The van was recovered by crane yesterday afternoon with the driver still inside.
When contacted last night, AMP'T Electrical director Brent Adler chose not to comment out of respect for his employee's family.
Western Bay of Plenty Police Inspector Clifford Paxton praised the efforts of his officer, who was resting at home yesterday.
"What he did was pretty outstanding. He evaluated the situation, believed he could make a difference, and clearly he did make a difference."
Police were investigating the cause of the crash. Mr Crouch said, "We want to know why. Why did it swerve? Was it intentional? Did he have a medical problem? Did he drop his cellphone? Why?"