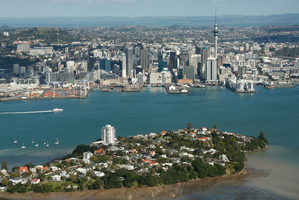 Social housing providers have told the Government that its reforms need to go much further if it wants non-government providers to take over responsibility for housing low-income tenants.
A bill before a select committee will extend Housing New Zealand subsidies to churches, iwi, trusts and NGOs, which would allow them to charge tenants no more than 25 per cent of their income to rent social houses and government would top up the difference.
The subsidy would apply only to new tenants, and providers and local authorities told members of a select committee yesterday that this was too limited to achieve the goal of big growth in the social housing sector.
Auckland's largest housing providers said they had the will to grow much larger but required more support. They told MPs that a new $27 million investment in social housing providers over the next four years did not put it on a level playing field with Housing New Zealand, which received around $640 million a year for income-related rent subsidies.
Auckland-based Community of Refuge Trust chief executive Peter Jeffries said the trust was focused on building affordable one and two-bedroom homes, because most developers were not building them.
In the past four years, the average rental price of a one-bedroom unit in Auckland had jumped from $255 to $347. This had led to increased costs, because the trust sub-let its properties for $255 to its tenants, many of whom were on sickness or invalid benefits, and it had to cross-subsidise from other properties at a total cost of $600,000. If the rent subsidy was applied to existing tenants and not just new ones, this cross-subsidy would not be required.
"If you really want us to grow, if you really want us to compete on a level playing field then you need to be more focused and assist us in meeting our operational needs," Mr Jeffries said.
National MPs questioned the cost of extending the rent subsidies - it was not known how many more tenants would become eligible if the subsidies were more widely applied.
Local authorities also questioned whether the subsidy could be extended to council flats.
Wellington Mayor Celia Wade-Brown said the council ran a significant amount of the social housing in the city, with just 150 out of 4000 flats run by third-sector providers. She said the bill in its current form discriminated against council tenants by providing subsidies for state houses and some non-government providers but not council tenants.
The council charges tenants 35 per cent of the market rent - a higher threshold than Housing New Zealand.
Planned changes
*Income-related rent subsidy extended to all social housing providers.
*All social housing tenancies, including non-government tenancies, become fixed-term, three-year contracts
*Housing needs assessment moved from Housing New Zealand to Ministry of Social Development.