Quake threat forces museum to act but Auckland waterfront version likely non-starter.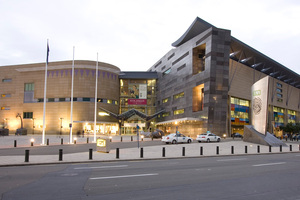 Te Papa is looking for places outside of Wellington to safely store the nation's treasures, but it is unlikely the plans will revive a proposal for a version of the museum on Auckland's waterfront.
Recent seismic activity in the capital, that has been shaking since a 6.5-magnitude quake struck last month, has prompted the board of the Museum of New Zealand Te Papa Tongarewa to reduce risk to the National Collections by seeking another location to house some of the collections.
In 2011, Auckland art critic Hamish Keith led a proposal for Te Papa North to be built in Wynyard Quarter as a space for roaming exhibitions.
Te Papa chief executive Michael Houlihan, who was involved in Keith's proposal to the Auckland Waterfront Authority, told the Herald it did not have Te Papa North in mind as its storage space.
"The idea presented at that time was to draw from the best of the collections from galleries and museums around the country and to show international exhibitions," he said.
"This concept was not progressed and is not connected to the current considerations for moving parts of the collections out of Wellington.
"Today's announcement relates solely to reducing the risk of natural hazards to the National Collections through seeking an alternative location in which to house parts of the collections."
Mr Houlihan said a number of locations were being considered by GNS Science, who had been commissioned to find a safe spot, but no decisions had been made. All of the National Collections are displayed or stored in Wellington. The types of work to be relocated have also not been decided. A new location would also need to increase public access to the collections, create educational experiences, and meet researchers' needs.
"We are still scoping and exploring possibilities. The board is mindful of its accountability to the nation for the nation's collections, and will be working with due care and in consultation to ensure the preservation of these taonga (treasures) for future generations."
Mr Keith, who is currently in Ireland, said he hoped the plan would revise debates about Te Papa North.
"It certainly is part of the case for Te Papa North and that would be a realistic long term objective," he said.
"I think though what they might be suggesting is more short-term and more in the sense of storing work rather than exhibiting it.
"Still it is a hook to hang another debate about Te Papa North on."