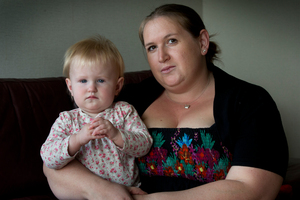 A mother got the fright of her life after hearing a crash in her baby daughter's room at night - and arrived moments later to see the sides of her cot had collapsed.
Hannah Bailey, of Hobsonville, bought a Baby Max Three-in-One Sleigh cot on June 17 for her 1-year-old daughter, Molly, from Baby City in Albany. But little more than a month later the sides collapsed in the middle of the night.
"I just hear this clattering of the bars from the cot falling on to the floor. I got a fright and ran through - she was in the cot holding on to some of them because they'd fallen on to her.
"I was in shock, I couldn't believe the cot had fallen apart."
Ms Bailey said she had checked on Molly about 20 minutes before it happened and her daughter was sleeping peacefully so it was unlikely she would have kicked the sides.
The mother tried to get a refund for the cot that weekend, but staff told her they would only be able to give her a replacement.
It was not until Ms Bailey returned with her mother as "back up" that she was given her money back.
But Ms Bailey is still concerned about the quality of the cot design.
"The last thing I'd want is to hear that a baby had been hurt or worse because the cot fell apart - I'm worried about the others out there."
But Baby City said it had "complete faith" in the product and blamed the incident on a one-off fault.
Managing director Trevor Douthett said he was confident the product was safe and that Ms Bailey's cot fell apart because for some reason the lower rail at the back of the cot was not there.
Mr Douthett said there had been one other complaint about the cot, but it was a different issue.
"That product was made to and tested to every safety standard in New Zealand ... I'm very comfortable with its quality," he said.
Mr Douthett said it should have been easier for Ms Bailey to get a refund, but was pleased she got it in the end.
Baby Max specifically manufacturers for Baby City.