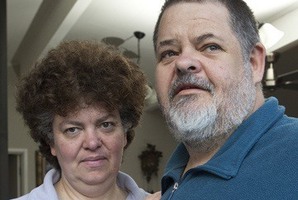 A South African immigrant who faces deportation for being "too fat" has launched a public appeal to help raise cash to fight his rare case.
Albert Buitenhuis, 50, and wife Marthie, 47, emigrated from Pretoria to Christchurch six years ago and quickly got full-time work in their respective catering professions at a local restaurant.
But since applying for permanent residency more than two years ago, Mr Buitenhuis' 130kg bulk has held him back - despite losing 30kg in recent years. Immigration New Zealand (INZ) rejected the application on May 1, saying that because of his obesity, as well as having a knee injury, that he may place too big a strain on the health system.
INZ's criteria decrees that an applicant's body mass index (BMI) must be under 35, but Mr Buitenhuis's BMI is 40, which makes him clinically obese.
The couple appealed the decision, desperate to stay in their newfound homeland.
Mr Buitenhuis said he was "stunned" by the decision.
Now, the couple are awaiting a final decision from Associate Immigration Minister Nikki Kaye on whether they have to go back home.
But they worry that the costly battle to stay here will leave them financially crippled, even if they are allowed to stay.
They've not been allowed to work since May 2, and were forced to leave their Christchurch home and move in with his sister in Auckland because they couldn't keep up with the rent payments.
They've started a Facebook campaign to try and fund their battle.
"I am so sorry to have to do this. It's a bit embarrassing," Mr Buitenhuis, a chef, said.
"I have resisted asking for help because I thought that this situation would have been sorted by now, but it is still dragging along.
"I've been fighting like this because I love the place (New Zealand)."
He says he's reaching the point where he wants to give up and say, "Stuff this, I've had enough".
"We've already basically lost it all ... even if the minister say yes, how are we ever going to get on our feet again?
"But the reaction (to the campaign) has been quite amazing. I can't believe how much reaction there's been, good and negative.
"It's one of those things, you put your neck out there and somebody will chop it."
Ms Kaye said she was unable to discuss the specifics of the case.
A decision from the minister's office is expected to come some time this month.
"In individual immigration cases where there is media interest it is not uncommon for my office to seek a privacy waiver,' she said.
"While I generally do not discuss details of any case, the privacy waiver enables me to advise media of my final decision. In this case, I do not have a privacy waiver.
"It is also not unusual in certain individual immigration cases for me to ask my office to seek further information before I make a decision.
"That is why it is sometimes difficult to give timeframes on when a case will be considered."
The Buitenhuis' facebook appeal has already received several offers of donations and messages of solidarity.
- APNZ