Heroic police officer saves passenger, but driver missing.
Police are "very, very proud" of a heroic officer who stripped down to his underwear and dived into cold water after a van plunged off a Tauranga bridge last night.
An operation involving police divers to recover a van which crashed off the side of the Maungatapu Bridge is now underway, with the vehicle's driver still missing.
Police are on site making sure no one walks onto the bridge.
The bridge will be closed shortly so a crane can pull the van from the water.
The two work colleagues had been in the van when it left the bridge following a three-car crash at 6.10pm.
When a local police constable arrived at the scene he saw that the 23-year-old passenger had managed to free himself from the van and was in a distressed state in the water.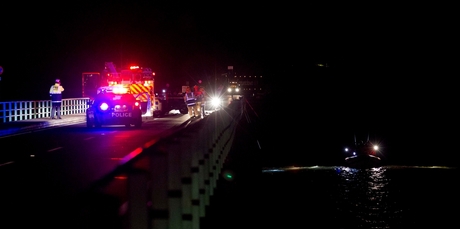 The 53-year-old officer stripped down to his underwear, jumped in and swam to assist the man.
The man disappeared under the water but then re-surfaced and the officer grabbed hold of him as they were carried by the current.
The officer managed to calm the man down and turn him on to his back.
After about half an hour, focusing on flashlights being used by searchers on the shore, the officer managed to guide them to land. Both were taken to hospital suffering from hypothermia.
The police officer was discharged later last night and was today resting at home.
Two men and a woman from vehicles on the bridge were also taken to Tauranga Hospital with moderate injuries.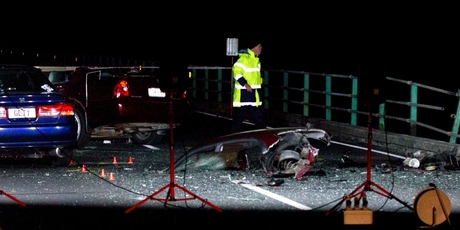 A 45-year-old from Papamoa remained in hospital.
Western Bay of Plenty Police Inspector Clifford Paxton praised the officer's efforts.
"We are very, very proud of the officer's efforts; what he did was pretty outstanding,"he said.
"He evaluated the situation, believed he could make a difference, and clearly he did make a difference. I have already had members of the public call me this morning to pass on their congratulations.
"Our focus at this time, however, remains on locating the missing driver. Our thoughts are with his family and we are working to bring them news as soon as possible."
- APNZ