Heroic police officer saves passenger, but driver missing.
A desperate search was being made in freezing conditions late last night for the driver of a van that plunged into Tauranga Harbour after a three-car crash.
Five other people were injured, including a "brave" police officer who had hypothermia after jumping off the Maungatapu Bridge to rescue a passenger in the van.
Police said the body of the van driver was believed to be still in the vehicle, about 5m underwater in the middle of the channel.
The passenger, aged 23, escaped from the submerged vehicle before the 53-year-old policeman plunged into the incoming tide to save him.
The two men were carried by the current to Welcome Bay, where they were able to reach the shore.
Both had hypothermia and were taken to Tauranga Hospital. They were expected to be discharged this morning.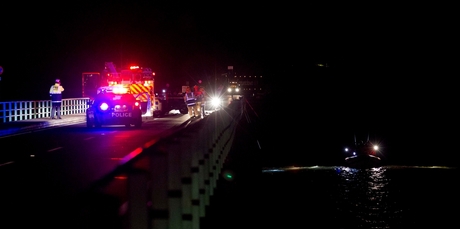 A 31-year-old man and a woman, 30, who were in one of the other two crashed vehicles, and a man, 45, from the other car, were also taken to hospital with moderate injuries.
A witness said he saw the cars collide. "It [the van] flew over the handrails, it was an almighty impact."
Police arrived at the scene soon after, and the officer stripped to his underwear before diving into the harbour.
"He dived off the bridge ... he was a very brave policeman and jumped to rescue the passenger who was floating in the fast-moving tide," the witness said.
"They got swept away with the tide so nobody could see them further up the harbour, but they managed after about 40 minutes to come ashore at a beach not too far away."
The cause of the pile-up, which happened about 6.05pm, was not known last night.
Inspector Steve Kose, of the police northern communication centre, said it was a "very, very brave call" for the officer to jump into the water from the bridge in wet, freezing and dark conditions.
"To go into the water - you just think about it."
Tauranga Coastguard skipper Geoff West said the van was found near the bridge, and debris from it was floating about 20m away.
He said there was about half-a-metre of swell and conditions were "quite windy and cold".
Mr West thought the height of the bridge could be as high as 10m.
A Maungatapu resident said traffic was backed up for kilometres in both directions for about an hour.
Police closed the bridge overnight.