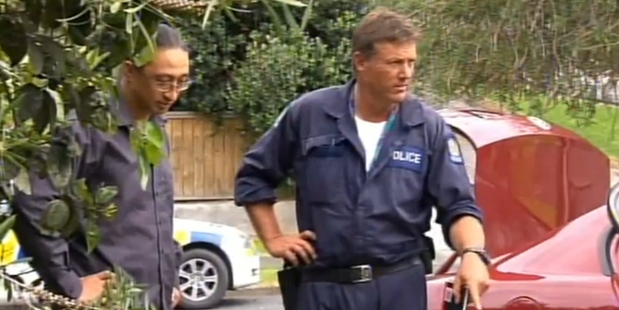 The father of a former senior Whangarei police officer facing drug charges says he's proud of his son and believes he is innocent: "He's been chasing these bloody druggies for years".
Name suppression lapsed at 5pm yesterday for Mike Blowers, 43, after his lawyer decided not to appeal against it being lifted to the Court of Appeal.
Blowers, a former detective sergeant, was the officer in charge of the Northland Organised Crime Unit which carried out raids against drug manufacturers and suppliers. He's accused of taking drugs from a police exhibits locker and giving them to a woman.
Blowers is charged with supplying the Class A drug methamphetamine and selling cannabis between June 1, 2011, and June 30, 2012, while employed in a senior position by police in Whangarei.
Blowers has denied the charges.
His father, Dave Blowers, last night stood by his son. He had been proud of his son's 20-year police career - "I was, I still am" - and said there was no way his son had done what he was accused of.
"Good Lord, he's been chasing these bloody druggies for 20 years, been hanging off the end of helicopters, pulling out cannabis plants. Why would he do anything like that?"
He believed very strongly in his son's innocence. "I know him and I know what's gone on. All his friends have stuck with him, every one of them, and a lot of them were in the police force."
Mr Blowers said his son would not return to the police force, even if cleared. Blowers resigned in March. "He'd already left before this lot blew up ... he'd done 20 years."
His lawyer argued publishing Blowers' name could lead to extreme hardship because of the impact it would have on his family and on his current job, 3 News reported.
But Justice Rebecca Ellis, at the High Court at Whangarei, said in her decision that because of Blowers' occupation at the time and the nature and circumstances, the public interest "is perhaps stronger than usual".
"Moreover, that interest cannot be dismissed as merely prurient; the public has a legitimate right to know about matters potentially impinging on the integrity and proper functioning of our law enforcement agencies and their officers."
Suppression still covers Blowers' current employer and his address.
He has also been ordered not to apply for another passport or travel document. He must also not contact the complainant or any associates named by the prosecution.
Supplying methamphetamine, or P as it is known, carries a maximum penalty of life imprisonment.
Northland District Commander, Superintendent Russell Le Prou, said police relied on the trust and confidence of the public and took any criminal allegations against police officers seriously. "The allegations are very disappointing and undermine the good work done by all staff in the Northland district."
Mr Le Prou said the investigation started when a member of staff came forward with their concerns.
A senior police source said Blowers' alleged activity had harmed his colleagues. "I just feel for his staff who will have placed their absolute trust in him ..." he said.