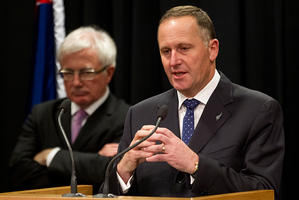 The Government is to fast track legislation allowing a "Government inquiry" into the Fonterra botulism scare which will be quicker than a commission of inquiry but with powers to subpoena witnesses and information which a ministerial inquiry could not do.
Prime Minister John Key over the weekend indicated the Government would conduct its own inquiry into how botulism causing bacteria found their way into Fonterra-produced whey concentrate which was then used to produce infant formula.
The incident has shaken international confidence in New Zealand's dairy exports which Fonterra, regulators and the Government are now scrabbling to shore up.
Fonterra will conduct two internal inquiries into the incident while the Ministry of Primary Industries (MPI) earlier today gave details of its own probe into how the problem was handled.
After speculation as to whether the Government would call a ministerial inquiry or a more detailed and tougher Commission of Inquiry, Mr Key this afternoon said his Government planned to now quickly pass the Inquiries Bill, which has been languishing on Parliament's order paper for more than three years.
Mr Key suggested the bill could be passed within three weeks, under urgency if necessary.
It would enable a Government Inquiry with the ability to force witnesses to give evidence andto force the disclosure of relevant information by companies, government agencies and other bodies as a Commission of Inquiry could do but a Ministerial inquiry could not.
However, the advantage over a Commission of Inquiry, which could take a year or more to complete was that the new Government Inquiry could be completed much sooner.
Cabinet will make a final decision next Monday as to which form of inquiry into the matter the Government will run, and after that, set the terms of reference.
Mr Key told reporters he believed it was important that he travel to key export market China to reassure consumers and regulators that New Zealand dairy products were safe, but he didn't want to make that trip until all four inquiries gave him the ability offer that assurance with confidence.
He hoped to make that trip to China after the Government Inquiry was completed, hopefully before the end of the year.
Earlier today the MPI said it had begun its "compliance investigation" into the whey contamination incident.
"This compliance investigation will determine whether regulatory requirements under the Food Act and the Animal Products Act were met by all parties involved, or whether any parties may have committed any breaches or offences", MPI acting Director-General Scott Gallacher said.
MPI's inquiry is likely to take three to six months, and Mr Gallacher said maximum penalties for breaching regulations under the Food and Animal Products Acts ranged from $100,000 to $500,000, and up to 12 months imprisonment, depending on the nature of the offence.