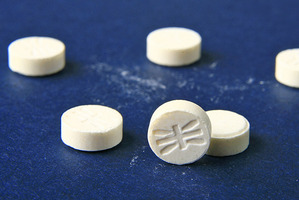 Greymouth community leaders, outraged at the opening of a second herbal high shop in town, are making a stand with a petition, protest and a public meeting.
Pleasures opened last week in vacant shop premises in Tainui Street, just around the corner from Planet Funk, which has sold herbal highs for several years.
Grey District Mayor Tony Kokshoorn said the campaign would target both shops.
"The petition will hit the streets tomorrow and I have organised people to sit out the front of both shops to collect signatures on the petition," the Mayor said.
The petition would also be distributed to other shops around town.
"We have a lot of support to get these businesses shut down; they are both totally unacceptable," Mr Kokshoorn said.
Blaketown man Rob Frew, who has called a community meeting for next week, said he was "overwhelmed" by the public support to have the shops closed.
"We will also be outside both businesses on Wednesday, with placards protesting our disgust at these type of shops; we don't want them in our town."
Long-time community worker for prisoner aid in Greymouth, Marie Awatere, said that as a mother and grandmother she believed Greymouth did not want this type of business.
"We need to put a lid on it. The labels on these synthetic drugs may say legal, but they are lethal."
She has been busy rallying support for the meeting on Monday, and said she already had the backing of police, Salvation Army, mental health and schools.
Community Constable Michael Tinnelly has also joined in opposing the shops. "While some of those herbal highs are legal, it is totally immoral to sell them. The people selling them obviously don't see what they do to our young people."
The Shed youth group leader Nicki Mora said: "It is not good for our kids, and everyone needs to support Monday's meeting so we can work on a way forward.
"I urge everyone who has a concern to attend the meeting; these artificial highs are incredibly bad for our kids."
Mrs Mora said one Greymouth teenager and his family "had been to hell and back" after taking herbal highs; "we don't want more".
The public meeting will be held at the Grey Main School hall at 7pm on Monday.
- The Greymouth Star