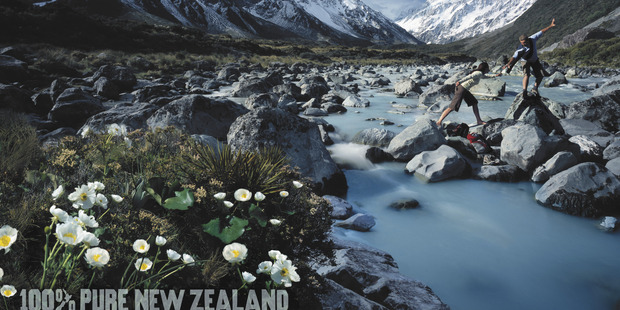 An environmental campaigner's complaint to the Advertising Standards Authority over Tourism New Zealand's 100 per cent Pure slogan is due to be reheard this week.
Dr Peter Nuttall complained to the authority in March about the slogan he argues "misleads" and "misrepresents" New Zealand. He also lodged similar complaints against a honey producer and an apple exporter.
All three complaints were initially rejected. But the decision involving TNZ's websites was later set aside because of an error in the way it was assessed. Dr Nuttall had already appealed the decision when he was informed it had been set aside.
"I'm delighted that the original complaint is to be reheard under the provisions of the full ASA codes including the environmental code," Dr Nuttall said. "Delighted, but sad it actually had to be heard at all. Our environment is our most precious and valuable asset. We've wrecked it in a short-minded, greedy way."
The 100 per cent Pure slogan has been heavily criticised after the Fonterra milk powder crisis, but Mr Nuttall has long argued the country has failed to live up to its implicit environmental promise.
"We should be able to run this campaign honestly and truthfully, it would only take a little bit of foresight, effort and leadership," he said.
"Instead we've turned into a 100 per cent Pure NZ spin-doctor's paradise.
"Why can't our kids swim at the beach and drink from the streams? I grew up to believe it was my Kiwi birthright."
TNZ had "no concerns about the outcome of the appeal process", a spokeswoman said.
"The original finding was in Tourism New Zealand's favour and we are confident this one will also be in Tourism New Zealand's favour."
The ASA ruled that the slogan was not "inextricably bound to environmental factors" but rather a "positioning statement" used to promote New Zealand experiences.