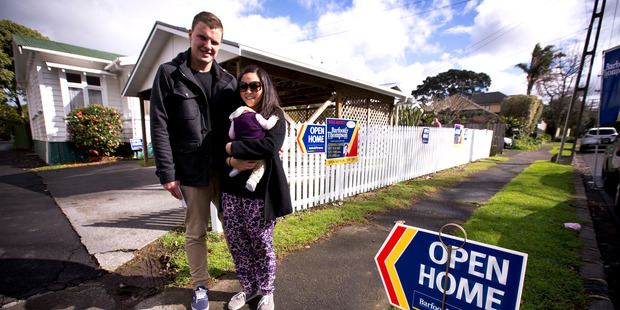 A newborn baby and now for the first home - except things are not so straightforward in Auckland's heated property market.
David Power, 24, and Courtenay Young, 23, were among those looking over a three-bedroom former rental in Morrin St, Ellerslie, yesterday afternoon.
However, with prices in central Auckland so high, the couple said the viewing was less a house hunt than a house dream. They do not expect to be in a position to buy for another three to five years.
"We are lucky that we will get help from our families. I'm off work, and it will be hard once I get back to work to afford childcare and a mortgage," said Ms Young, cradling their 6-week-old daughter Riley.
Mr Power is a builder and Ms Young said that would help when it came to fixing up a property. However, it was still dispiriting to see the condition of homes and realise how much they sold for.
"It is very depressing. It is very run-down for how much money we'll have to spend to make it attractive."
The couple welcomed any extra help for first-home buyers, but doubted any action would change the situation much. It was all they could do to get a foot on the property ladder as soon as possible.
"Nothing is really going to give us that much of a helping hand. I think the Government can help only to a certain extent ... there's only so much financial assistance that they can give," Ms Young said.
Also viewing were Paul Marks, 32, and Katie Shortt, 31, with their children Daniel, 2, and Amelia, 5. The family are looking to upgrade from their home in Mt Wellington to something bigger, but have searched without luck for about a year for a property around $700,000.
"Every house is an auction, and they are going for stupid money. It is a pain, because with a lot of the banks it is difficult to get the money together in time," Mr Marks said.
The measures announced by the Government yesterday and its other policies were not nearly bold enough.
"Nothing is going to make a change until they start stopping overseas buyers buying houses and just renting them out. It is difficult for a New Zealander to buy their first house when you've got people with millions of dollars overseas being able to buy up properties and have as many as they want."