Parents hope more help will come along for their seriously ill boy.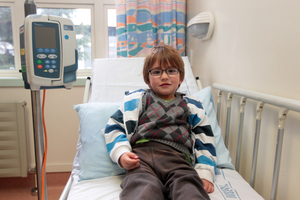 The parents of little Jethro Morrow are hoping a documentary about their son's rare kidney condition will raise awareness - and $500,000 a year for his treatment.
Shannon Gantley and former partner Louis Morrow have called on award-winning producer Alex Behse to follow their son as he battles atypical hemolytic uremic syndrome, an extremely rare condition that causes the destruction of red blood cells, acute kidney failure and a low platelet count.
The 3-year-old has already made headlines as the only person in New Zealand to have the disorder, but his parents want to reach more people through the documentary.
"We have fundraised as much as we can with music concerts, online auctions and donations so we are hoping to open more eyes to rare illnesses and the struggle we have had," Gantley said.
Jethro's condition is maintained with plasma infusion treatments each week.
Eventually he will need the experimental drug Soliris at a cost of $500,000 a year. The drug is funded in 40 other countries, including Australia, but not in New Zealand. Sufferers of a similar disease, known as paroxysmal nocturnal haemoglobinuria, want Pharmac to fund Soliris.
The family were dealt another blow recently when Jethro was diagnosed with Asperger's syndrome. "We are just adjusting to that side of his personality now," Gantley said.
Donations from friends, family and strangers amount to about $1000 a week.
Gantley and Morrow hope 10,000 individuals will sponsor Jethro for $1 a week. That alone would fund the toddler's dose of Soliris. "It's such a small amount people will barely notice it gone, but it would make the world of difference for Jethro," Gantley said.
For more information, go to the Facebook page Support Jethro website.